Posted by Kaitlyn McConnell on Oct. 10, 2017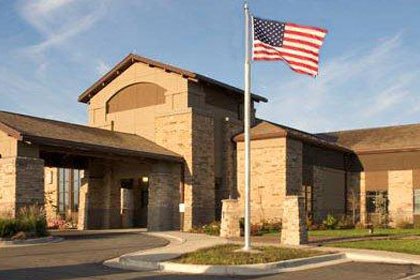 A new partnership will unite two southwest Missouri health care entities.
A letter of intent has been signed that allows CoxHealth to acquire Barton County Memorial Hospital, a 25-bed critical access facility based in Lamar.
"The way health care works is changing, and we're working to adapt," says Wendy Duvall, CEO of Barton County Memorial Hospital. "In the current climate, it is becoming increasingly difficult for rural hospitals to keep operating the way they have, especially considering regulations and reimbursements. We're very happy about this partnership with CoxHealth, since it ensures that critical access care is still available in our community."
The Barton County hospital will be CoxHealth's sixth hospital, and signifies an advancement of the health system's efforts to strategically grow.
"One of CoxHealth's priorities is to expand our services in the region and improve access to health care for people in the Ozarks, so this partnership is a perfect fit for us," says Steve Edwards, president and CEO of CoxHealth. "We are excited about providing care in a new area of the Ozarks, and being able to partner with Barton County Memorial Hospital. By combining the strength of CoxHealth and BCMH we believe we can expand services in Barton County, find new efficiencies, and bring new resources to the community that just would not be possible for a standalone hospital."
CoxHealth's approach is one Jill Purinton, chairperson of the Barton County Memorial Hospital Board of Trustees, says supports what the board hopes to achieve. "When we started looking at future partner health systems to join with, it became clear to us that CoxHealth was the best fit," she says. "We are glad that even though there will be change ahead, it's with an organization that has local best interest at heart."
As the plan stands, all of the Barton County hospital employees in good standing will retain their positions for at least one year after the acquisition. However, Edwards notes that there's no plan to cut positions at all. Likewise, CoxHealth values Barton County's relationships with its physicians, and plans to honor all physician contracts.   
"It's very important for us to send a message to the community and employees that we are planning to grow, and we are going to need more people," he says.
After signing the letter of intent, a due diligence period follows that allows the organizations to explore one another's business practices. Once that period is complete, a final agreement for approval will be signed between CoxHealth and the Barton County Memorial Hospital. It is estimated that the plans will be finalized by the end of the year.