Posted by Kaitlyn McConnell on Oct. 31, 2018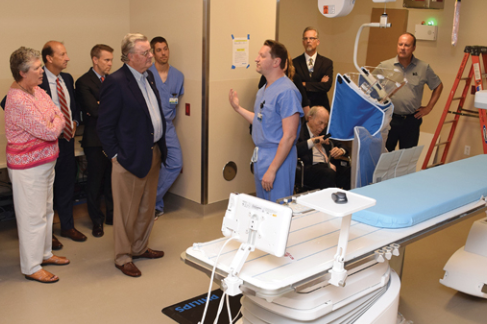 When Cox South doubled its size in 2015, a few floors of the hospital were left empty in anticipation for future expansion. The need for part of the space is now here.
Recently, the health system used a portion of the space to install three new electrophysiology (EP) labs. The expansion is tied to community need, and allows even more space for patients to be treated for conditions related to irregular heart rhythm.  
"This subspecialty has grown for us exponentially," says Becky Watts, administrative director of Cardiovascular Services at CoxHealth. "EP procedures at Cox South grew by more than 70 percent year over year, so there's a lot of demand. As our population ages, cardiovascular conditions increase, and we wanted to ensure we were ready to care for patients who need us."
That growth is partially tied to the specific procedures offered at Cox South.
"Our program is unique in southwest Missouri," says Watts. "We do high-risk ablation, which no other provider in southwest Missouri does, so we get referrals from a wide area."
In addition to ablation – a treatment for conditions such as Atrial Fibrillation (AFib) – the labs will also be where pacemakers and implantable cardioverter defibrillators (ICD) are installed.  
The new EP labs are on the fourth floor in the new West Tower, and overlook Primrose Street. In addition to the treatment spaces, there is a waiting room, four pre-and post-procedure bays for patients, support space, and work space for staff.