Posted by Janell Patton on Aug. 22, 2019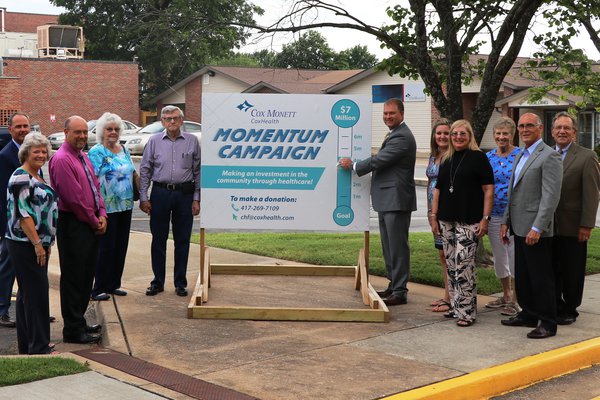 Three separate $1 million gifts have been made to Cox Monett's Momentum Campaign taking the total to $4.6 million towards the $7 million goal. All funds are dedicated to the construction of the new Cox Monett hospital. The most recent major gift commitments have come from longtime Cox Monett friends and supporters from the Monarch Foundation and Chris and Ginny Fuldner. The other million-dollar donors are Jack and Margaret Prim, who announced their gift at the hospital's groundbreaking ceremony in May. Prim, past-president of the Cox Monett Community Advisory Board, is co-chairperson of the fundraising campaign.
"We are grateful to every donor who has committed to the future of health care for this region," says Lisa Alexander, president of the CoxHealth Foundation. "Today we give special thanks to the Monarch Foundation and Chris and Ginny for their gifts of $1 million that has helped propel our campaign past the half-way mark and closer to our goal. These gifts will ensure that the community has a hospital prepared to serve for generations to come." 
The Monarch Foundation is focused on improving the resources of the region for the benefit of its residents. Chris Fuldner is a long-standing member of the Cox Monett Community Advisory Board, and his wife Ginny is a staunch advocate of health care initiatives, including diabetes. Both families have been past supporters of hospital fundraising efforts, and a gift from the Fuldners' in 2000 helped re-establish labor and delivery services at Cox Monett.
All donors to Cox Monett's Momentum Campaign will be recognized on a permanent display when the new hospital opens. Special donor recognition is also available within areas of the hospital. All gifts are fully tax-deductible as CoxHealth is a non-profit organization.
These gifts help grow excitement at the building site, where ground work is complete on the land where the new Cox Monett Hospital is being built.
"The contractor will begin to mobilize on the site and you will begin to see the start of the building in early September," says Rod Schaffer, vice president of Facilities Management for CoxHealth. 
Cox Monett Hospital began in 1953 as St. Vincent Hospital. It joined CoxHealth in 1993, and is one of CoxHealth's two critical-access hospitals. The other – Cox Barton County Hospital – is located in Lamar.
The Momentum Campaign continues with donor opportunities remaining for those interested in being a part of the legacy of health care in the region. For more information on the campaign or to donate, please call Lisa Alexander at 417-269-7109 or lisa.alexander@coxhealth.com.  Information is also available at www.coxhealthfoundation.com.