Posted by Janell Patton on Feb. 5, 2020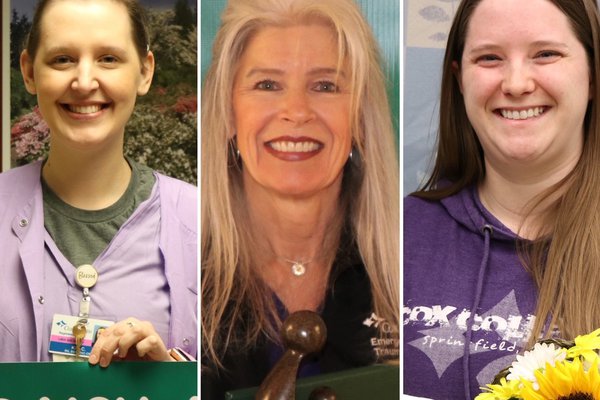 Each quarter, CoxHealth recognizes nurses who have provided outstanding care with DAISY Awards.
The Sunshine Award celebrates CNAs, NAs, unit secretaries and technicians who make a patient's experience exceptional. 
Here are the most recent Monett honorees:
DAISY Award
Kim Calton, RN, Labor and Delivery
Kim cared for a patient who presented with soaked, worn out shoes. The homeless patient asked if we had a means to dry her shoes, but they were too worn to be dried. Kim checked lost and found and no shoes were available.
"This amazing, compassionate nurse took it upon herself to go to the locker room, get her personal shoes out of her locker, and proceeded to give them to the patient," her colleague wrote in the nomination. "At the end of the day, Kim walked out of Cox Monett only wearing her socks."
Heidi Clark, RN, ER/Urgent Care Nurse Manager
From the nomination: "My dad recently had major surgery and was sent home with insulin and blood thinner shots.  He told me that he could not give himself the shots—I didn't know what to do.  I spoke to Heidi about my situation, and on her own time one day after work, she went to my dad's house in Aurora and educated him on how to give himself the shots.  Heidi also taught my family how to give the shots.  My dad said he felt so much more comfortable, and we all appreciated Heidi taking time out of her busy schedule to do this for us, especially since she lives in Mt. Vernon.  Heidi went above and beyond her normal job duties and we just can't thank her enough." 
Sunshine Award
Angela Aga, ER Operations Facilitator
Angela came up with the idea to create a "Band-Aid" book for our pediatric patients in the Emergency Department.  This allows children to pick the Band-Aid they would like, functions as a  distraction technique, and is a fun and positive experience for the patient. 
"Angela is always doing things to bring our team together and is constantly looking at ways to improve the care we provide in the ER," her colleague wrote in the nomination.  "I hope you never stop going the extra mile to make our world a better place!"