Posted by Janell Patton on Jan. 9, 2018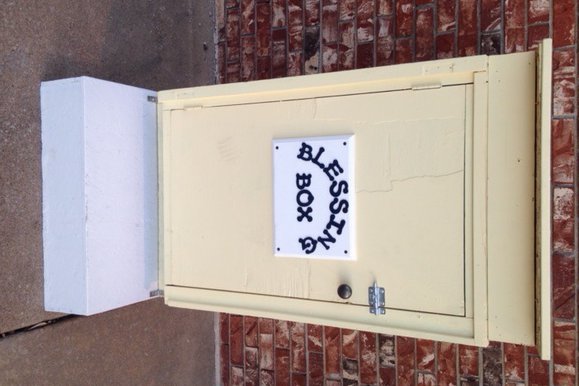 It all started a few years ago when John Blackburn saw a news report on blessing boxes popping up all over the country. 
The boxes, all shaped in different sizes, contained space to hold food for people who might just need a little extra help.
"I thought it was something that my colleagues and I could manage, but allow the public to make donations as well", said John Blackburn, physical therapist at Cox Rehab and Sports Medicine.
So, with this idea—the work started.  A co-workers' husband found an old lower kitchen cabinet on the side of the road that someone just threw away.  Blackburn brought the cabinet home and fixed it up into the blessing box.  He placed a laminated sign inside the box sitting outside of Cox Rehab and Sports Medicine that says, "Take what you need, leave what you can."
"The goal is to help people who may have fallen on hard times and just need a meal or two to get by," said Blackburn.
Blackburn says he is hopeful the idea will take off. He said he has heard of other boxes around Monett and has been blown away by so much goodness in our community.  Employees at Cox Rehab and Sports Medicine are stocking the box with non-perishable food items and have entertained the thought of putting children's coats, mittens and socks into the box.
People can take or give at the blessing box—it is open 24 hours a day, seven days a week. Cox Rehab and Sports Medicine is located at 700 E. Cleveland Ave.
For more information, please call 417/236-2480.