Posted by Kaitlyn McConnell on April 20, 2017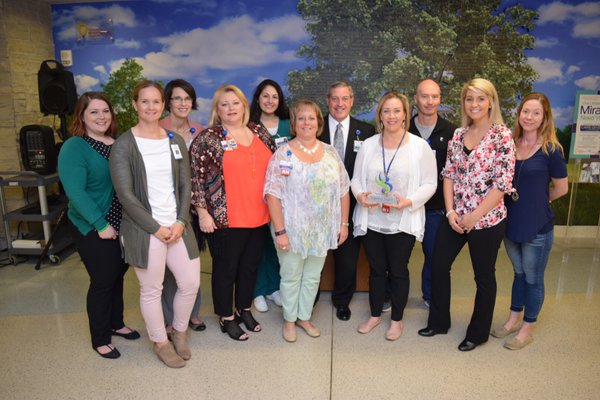 Cox Medical Center South received Saving Sight's 2016 Excellence in Eye Donation Award today.
This marks the third year the hospital has been honored for achievements in providing the gift of sight to those needing a cornea transplant. Overall, the hospital achieved a 67 percent consent rate for eye donation in 2016. Staff at Cox South helped facilitate 154 eye donation cases, resulting in 194 individuals receiving restored sight through a cornea transplant.
"We're honored to receive this award from Saving Sight because it represents the many lives that have been touched by organ donation," says Ron Prenger, senior vice president and Chief Hospital Officer at Cox South. "There's no way to express how impactful this process can be for folks in dire need of a transplant, and we're grateful to be a part of that."
Created in 2014, the Excellence in Eye Donation Award recognizes hospitals that demonstrate an outstanding commitment to eye donation.
Fewer than 15 percent of Saving Sight's partner hospitals in Missouri, Kansas and Illinois will be recognized with a 2016 Excellence in Eye Donation Award. Partner hospitals that achieved an eye donation consent rate exceeding 45 percent with at least 10 donors during the 2016 calendar year will receive the award.
"Children see to learn, parents watch their children grow and older adults maintain independent lifestyles thanks to the vision made possible through corneal transplants each year," said Tony Bavuso, CEO of Saving Sight. "We are grateful to our partners at Cox South who believe in our mission to change lives by saving sight and work with our courageous donors and donor families to make the precious gift of sight possible for countless individuals."
With the help of hospital partners like Cox South, Saving Sight provided corneas for more than 2,900 corneal transplant recipients in 2016. Each year around 48,000 individuals in the United States require a cornea transplant to restore vision that has been lost due to disease, disorder or injury.  
For more information or to learn about becoming an eye, organ and tissue donor, please visit donatelife.net.