Posted on Aug. 25, 2016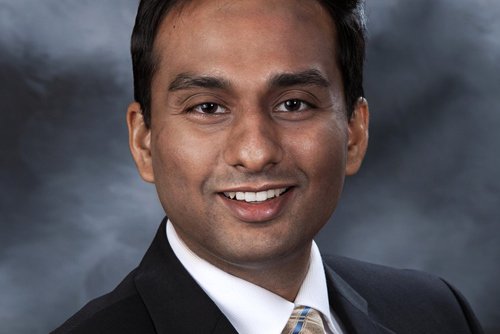 Cox Medical Center Branson is pleased to announce the addition of Robbie Mangalasseril, MD, to the CoxHealth Cardiology team.
Dr. Mangalasseril grew up in Dubai and obtained his medical degree at the University of Kerala, in India. Since obtaining his medical degree, he has been at St. Louis University School of Medicine completing his residency in internal medicine and fellowship in cardiovascular diseases. While completing his education at St. Louis University, Dr. Mangalasseril served as chief resident  and chief cardiology fellow.
"Dr. Mangalasseril is a wonderful addition to our already strong team of cardiologists," said Cox Medical Center Branson President William Mahoney. "His passion for providing great cardiology care is evident, from attending top medical schools to the awards he has already received, including being recognized by St. Louis University in 2012 for best graduating internal medicine resident and last year as cardiology fellow of the year."
Dr. Mangalasseril said his passion for cardiology stems from his childhood.
"As a child, I had several relatives who suffered heart attacks and I even recall being fascinated as I listened to my uncle talk about balloon angioplasty," Dr. Mangalasseril said. "I was 10 years old at the time and remember thinking, 'Wow, this is amazing. I want to be a part of that.'"
Dr. Mangalasseril loves the opportunity he has as a cardiologist to make a positive difference in the lives of his patients.
"I'm the first doctor in my family and I absolutely love my job," Dr. Mangalasseril said. "I get to meet many people and learn about them, not just about their problems, but about their lives. I have the incredible opportunity to help them feel better and sometimes even cure them. Every week, I'll see patients who will challenge me and inspire me to look further and I love a challenge where the end result is a healthier, happier person."
Dr. Mangalasseril said he is specifically passionate about valvular heart disease, heart failure and preventative cardiology.
Dr. Mangalasseril's family will soon be joining him in Branson. His wife, Anju Susan Prasad, is in her final year of endocrinology fellowship training at Saint Louis University and plans to join her husband in Branson once her fellowship is complete. The couple has a 4-month-old son,  Darren Thomas.
"We love the outdoors and Branson is the perfect place to raise my family," Dr. Mangalasseril said.
Dr. Mangalasseril is seeing patients at Cox Heart Center Branson. To learn more or to schedule an appointment, call 336-4112.