Posted by Kaitlyn McConnell on March 15, 2019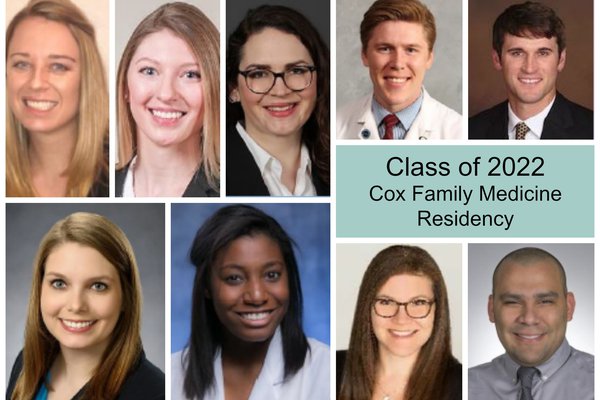 CoxHealth is pleased to announce the nine new resident physicians that will join Cox Family Medicine Residency in 2019. The physicians, representing a variety of medical schools, will serve patients at the Family Medical Care Center, throughout CoxHealth, and in the community. 

The class includes:
·         Jacob Bolt, MD – University of Arkansas 
·         Rachel Brown, DO – Philadelphia College
·         Margaret Givens, MD – Saint George's University 
·         J. Edward Hansen, DO – Des Moines University
·         Victoria Jackson, DO – A.T. Still University 
·         Mario Martinez, MD – Emory University
·         Kristen Snyder-Hernandez, MD – Ross University 
·         Shelby Laughlin, MD -  University of Missouri - Kansas City 
·         Rachel Watson, DO – Edward Via 
The CoxHealth-based residency program is one-of-a-kind in the Springfield area. Established in 1987, the program helps fill both a local and nationwide need for Family Medicine physicians. It also helps physicians develop the diverse skills necessary to thrive in any practice setting, and gain substantial experience in maternity care and inpatient training.
Additionally, residency leaders are happy to announce that the program recently received a continued accreditation status from the Accreditation Council for Graduate Medical Education after an annual review. The review committee commended the residency for its demonstrated substantial compliance with ACGME's requirements without citations.