Posted by Kaitlyn McConnell on Dec. 18, 2017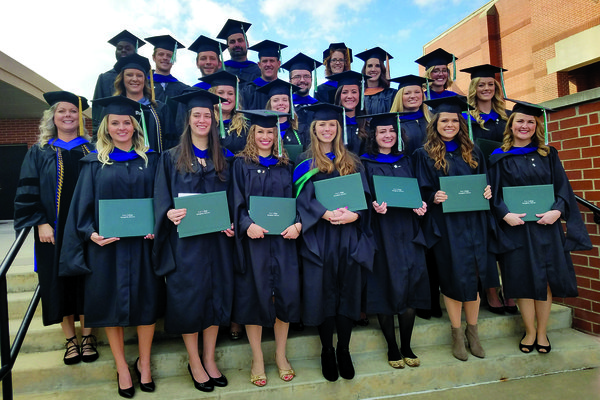 The need for health care professionals – and the number of patients needing care – continues to rise.
Soon, however, a new group will begin making a difference: On Friday, Dec. 15, Cox College graduated its first master's-level class of occupational therapists. Diplomas in hand, the group of new therapists join a highly sought-after profession.
"These students have done an excellent job," says Dr. Amy Vaughan, chair of the Cox College Master of Science in Occupational Therapy (MSOT) program. "Occupational therapy is a profession that uses everyday activities to help people overcome challenges in everyday life. We believe our students are prepared to make a significant difference in today's health care environment."
Occupational therapy expertise is a valuable part of all communities, which helps individuals prevent and recover from conditions that affect their quality of life. These situations might involve developmental disabilities, work-related injuries, stroke, or even behavioral health. 
Plans for the master's program began around five years ago, when the college recognized the need – both in the Ozarks and across the country – for occupational therapists. In response, the college decided to step up and help by adding Occupational Therapy to the list of health science programs it offers.
The Occupational Therapy program draws about a 50/50 mix of students from local areas as well as from across the nation.
The program attracts students seeking a career shift in health care, as well as traditional students entering health care delivery for the first time. 
"We are amazed at the number of quality applicants we receive seeking to continue their education at Cox College," says Vaughan. "Some have degrees in psychology or exercise science. Others are transitioning from related medical fields such as nursing or social work. We even have several students who have backgrounds in computer science and education."
The American Council for Occupational Therapy Education sets high standards for college's offering occupational therapy programming. At Cox College, this materializes through innovative teaching and hands-on learning opportunities that prepare students for real-life scenarios. 
One example includes simulation time at Cox Cottage, an apartment inside the school – complete with bedroom, kitchen, living area and dining room – where students learn strategies to help individuals stay independent at home. 
Students also participate in community-based assignments such as riding a Springfield city bus while considering what the experience would be like for someone with a specific condition such as low vision. Additionally, students regularly partner with community organizations to develop initiatives and provide service hours.
"It helps when students have an experience that broadens their perspective and helps them understand what people are going through," says Vaughan. "It's not just textbook learning. Students are learning what real health care is about – it's about the people. We look for students who have a heart for people and a heart for service. Then our job is to teach them the science and art of our profession."
Elizabeth Newport, one of the graduates, would likely agree with Vaughan's statement. The occupational therapist was employed as a patient advocate at CoxHealth when she began dreaming of expanding her abilities in health care. 
"It's been so fulfilling," she says of the program, which she notes was an amazing experience. But that positivity extends beyond the classroom walls and into her new profession.
"I am excited to be there for people who need it and use what I've learned over the last couple of years," says Newport. "The idea of helping empower people, and helping them achieve independence in their lives, is what it's all about to me."  
Applications are currently being accepted for the MSOT program. For more information, visit the Cox College MSOT web page.