Posted by Brandei Clifton on March 8, 2019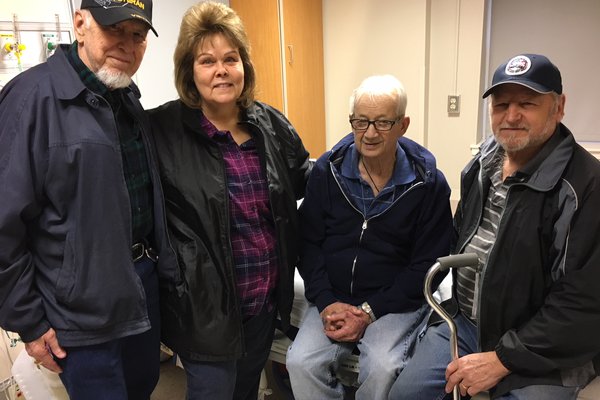 Sitting on the end of the hospital bed he's slept in for 111 nights, 82-year old Air Force veteran Ken Lester held everything he owned in a small plastic sack. His life – and luck – were about to change. His new "forever family" was coming to take him home.
It's a feel-good story almost four months in the making with plenty of heartache along the way. Lester was living on his own in a Branson condo this fall when the unit started to flood. As he tried to leave for help, he slipped and fell to the floor. His OATS van driver came to pick him up for an appointment and found him face down in sewage from the overflowing toilet.
"She put her finger in my mouth to clear out the water. She thought I was dead," he says. "All I could do was bite her finger and let her know I was alive."  The driver took Lester to Cox Branson for treatment, but what was intended to be a few days turned into months due to a guardianship issue.
 "He doesn't have any family left to guide him," says Adene Smith, director of nursing at Cox Branson. "The process to appoint a guardian for him got tied up in court longer than we expected."
As his days at the hospital turned into weeks, the staff excitedly "adopted" Lester as a floor favorite. "We all just fell in love with him," says Sabrina Hurtgen, a clerk on the medical floor and Lester's unofficial barber. "We all looked out for him and did our best to make his days here as bright as they could be."
 "They really cheered me up," Lester says. "I'd give them a hard time, and they'd dish it right back. We were like family."
 But, a forever family is what staff knew Lester really needed. Hospital social workers spent weeks trying to secure a safe place for him to go. "Our social services team – including Catie Lathrop and Stacy Parks—worked SO hard to give Mr. Lester a happy ending," says Janine Johns-Shaffer, social work manager at Cox Branson. "We knew he'd need some assistance but wanted him to be in a place that was the least restrictive. Everything fell into place at the perfect time when we learned about the VA Medical Foster Home program."
That program provides veterans with the option of living with a family instead of a nursing home – an opportunity hospital staff knew would be a perfect fit for Lester. After calls, meetings and lots of paperwork, a host family was ready to take him home.
"I'm just so excited to be part of their life," says Lester. "I can't wait to do simple things like go for a walk in the breeze and go to Wal-Mart."
His new family comes with a lot of particular perks Lester is excited about, including two dogs, a pool and a big back deck to have barbecues. Not only that, he also gets a "sibling" – a veteran named Gene Solomon who the Keims also host. His new "brother" had one request: "I just really want to take him fishing."
Lester loaded up in the Keims car with his little plastic sack, but big hopes for a happier future. Lester and Solomon happily waved from the backseat like lifelong brothers leaving on a road trip. The family headed to Wal-Mart for some new clothes and another surprise – an Air Force ball cap Lester says he's wanted for a really long time.
"We'll take care of his wishes, including his request for fried chicken! Our life is his life now," says Joyce Keim, Lester's foster caregiver. "He's in really good hands, and we will love him like our own."
Ronald Bauder, coordinator for the VA Medical Foster Home program in Southwest Missouri, encourages anyone interested in fostering a veteran in need to call him at (417) 655-3816 for more information.