Posted by Brandei Clifton on Feb. 5, 2020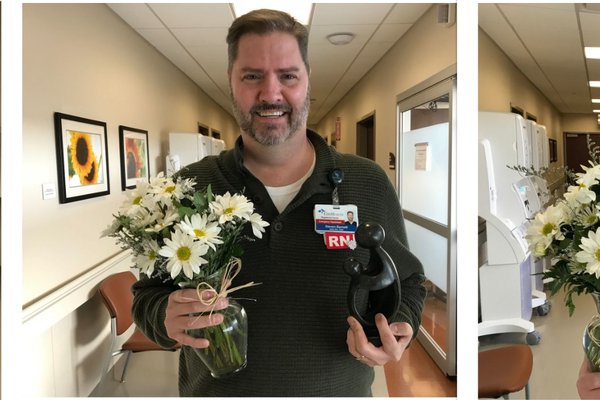 Each quarter, CoxHealth recognizes nurses who have provided outstanding care with DAISY Awards. The DAISY Award for Extraordinary Nurses is presented in medical facilities throughout the United States to recognize the education, training, skill and compassionate care nurses provide. Patients, their friends and families, co-workers, physicians and volunteers may nominate a nurse for the award.
Here are the most recent Branson honorees:
Patty Morris, Emergency Department
Patty had a patient who was a truck driver from Florida.  He fell out of his truck and fractured both of his wrists.  He was here alone and unable to do many things for himself due to the splints on both arms. After her shift ended Patty went to his hotel with dinner and offered to feed him.  She continued to check on him via text until a co-worker could arrive to drive him home.  Patty always takes excellent care of her patients and is willing to go above and beyond to care for them.
Steven Barnett, Clinical Education
Steven was at Silver Dollar City with his family when a man collapsed behind him. He worked the code with the SDC medic and Mercy medics for 45 minutes. He then left his family at SDC and went to the ER to be with the man's family. This isn't the first time that Steven has come to the aid of a person in the community. He is an amazing nurse and his compassion for people is evident in everything he does.

Patrick Nix, Emergency Department
Nomination story #1:
My 8 yr old son had to have blood drawn and was a bit anxious. Patrick played my son's favorite song and had him sing along to calm him. He is an amazing nurse and as we had been in the ED a lot the previous week we knew Patrick would get the job done again today.               
Story 2
I was in the ED for sciatic nerve pain, Patrick went above and beyond the regular service. Then my roommate was admitted for a dislocated shoulder, when I saw Patrick would be her nurse I knew she would be in good hands. He is great and has the nicest personality. I wish all were like him as he exceeds all expectations for great service with compassion. Thank you Patrick!
Story 3
I came in with a kidney stone. Patrick spent a long time in my room explaining everything he was doing. He was kind and funny. Patrick's amazing attitude is perfect for the ED because he can make even the most grumpy guy smile!