Posted by Brandei Clifton on Dec. 9, 2020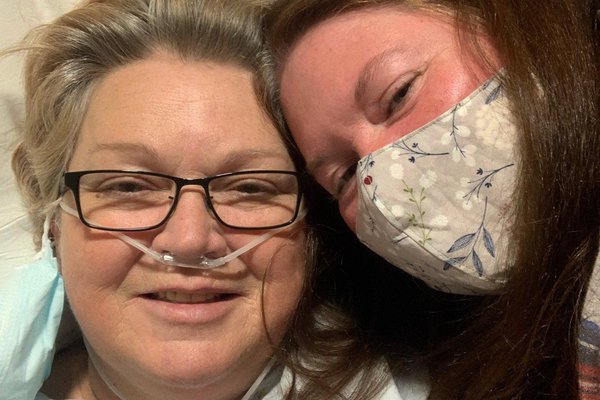 Becky Camden did something this year she's never done: Put up her tree before Thanksgiving. Her wife Tracy was fighting for her life against COVID-19 and both believed the magic of the holiday season would grant them a Christmas miracle.
Becky, an ER nurse at Cox Branson, began feeling what she thought were allergy symptoms in mid-October. Around that same time, Tracy who drives a school bus in Branson, was feeling extra cranky.
"That's so out of character for me," she says. "I drove my route and just felt grumpy. After I dropped off my last kid, I went to step out of my bus and my legs almost buckled. By the time I got to my car, I could barely breathe."
The Camdens knew it was time to be tested for COVID-19. When the results came back positive, they hunkered down at home – both completely exhausted. By day six, they were feeling okay and even created a Facebook video for family back home in Illinois.
"We wanted our loved ones to see we were okay," Becky recalls. "Our heads were a little foggy since COVID clouds your mind, but we were getting stronger."
The next day, Tracy took a turn for the worse. Becky tested Tracy's oxygen with an at-home monitor and her levels had dipped into the 80s. She took Tracy to the ER and she was sent home on oxygen and seemed to be doing fine. However, when Tracy woke up the following morning, her oxygen had tanked even more, she lost her appetite, and her low-grade fever had spiked to over 103 degrees.
Using her nursing knowledge, Becky could see the supplemental oxygen was no longer meeting Tracy's needs. She was quickly getting worse. A new X-ray showed no pneumonia but her lungs were riddled with COVID and were already showing scar damage.
"This is the point I began to get terrified," Becky says with a pause. "When she came home, I'd set my phone alarm for every 30 minutes so I could test her oxygen again. She just kept getting worse."
While Cox Branson now cares for acute COVID patients, at the time, all CoxHealth hospitals were sending their COVID patients to Cox South. The couple knew it was time to head to Springfield, but Tracy resisted because she was afraid she'd end up on a ventilator.
"We both just laid there for an hour and half crying," Becky says. "I knew if she was admitted to critical care, I may never see her again. That's a really hard feeling to even describe."
Becky made the decision to take Tracy to Springfield but she was too emotional to drive up there. Her ER co-worker, Jason Froeschle, also had COVID at the time. He came over to the Camden's home and agreed to drive them.
"I sat in the back with Tracy and our minds were racing," Becky remembers. "I wanted to get her up there as fast as we could to get treatment, but I didn't want that time in the car with her to end."
When they arrived to the ER at Cox South, Becky and Tracy had to part ways.
"Becky had to leave me," Tracy says with tears in her eyes. "I knew I was okay when she was with me, but now my angel was gone. I just told myself that it's just me and the nurses now, and I'd have to fight to get back home."
Looking back now, Tracy realized how hard she did have to fight. She was transferred to the COVID Critical Care unit at Cox South and doesn't remember much from the first few days there. Becky does though – recalling how she lived for the daily update from doctors. Things didn't look good.
Tracy's body was experiencing a cytokine storm, which is where the body starts to attack its own cells and tissues rather than fighting the virus. She, by this time, also had COVID pneumonia and was in respiratory failure.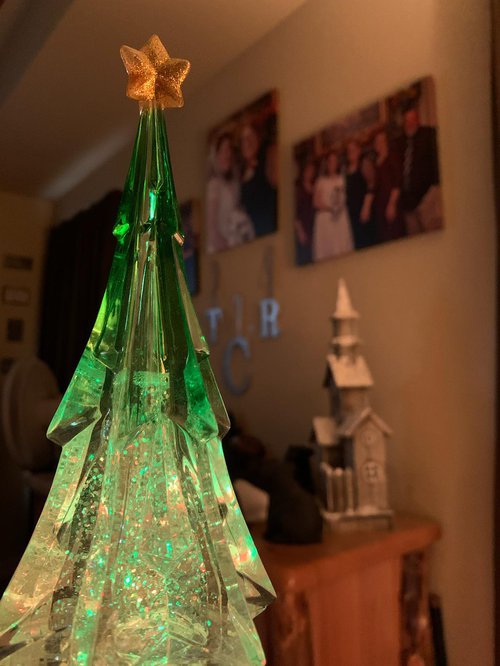 Back home in Branson, Becky channeled her worry into believing in the magic of Christmas. It's her and Tracy's favorite holiday, and she held onto hope as well as a special trinket on her bedside table.
"I have a glittery little plastic tree I've had for years," she says. "I shake it when I need extra prayers or have extra worries. I kept shaking it, trusting that some Christmas magic and prayers would help Tracy turn a corner."
Five days after arriving at Cox South, something finally sparked Tracy to wake up and come around – it was Becky's voice on a FaceTime call with the nurse.
"That's what it took to get me to snap out of my fog," she says. "Once I heard her voice, my will to fight took over and it was game on. She was my reason to get back home."
Over the next few days, Tracy was alert but still critical. She was on a bipap, which provides a high flow of oxygen through a mask and is often the final intervention before a patient is placed on a ventilator. Tracy describes the feeling of lying there in the COVID unit, surrounded by sadness and fear.
"People were dying on all sides of me," she says with a pause. "My fear was that I wasn't going to make it out of there either."
That's when she says an "angel nurse" named Billy caught her attention as he cared for a patient in the bed next to her.
"He had his name written on the back of his uniform, and I would just lay there for a few days watching him," she says. "I was so inspired by the gentle way he cared for the lady by me. He was so gentle with the tape on her arms and the tubes. She nor her family knew how amazing he was to her."
The next day, Tracy looked over and the patient was gone. Like others surrounding her, she hadn't made it.
"I just kept telling myself that they were looking at the same ceiling as me and had family at home like me, yet they didn't make it. I was getting better, so I told myself God must not be done with me yet."
As the days dragged on, Tracy began to improve. On the 13th day in the COVID unit, doctors shared the good news: She was ready to be transferred to a regular hospital room and would be reunited with her wife.
That's when Tracy received a sobering visit from the nurse who cared for her the first day she arrived, a nurse Tracy recognized by her eyes since that's the only part visible through her PPE.
"Her beautiful eyes were crying," Tracy says. "She came over to me, grabbed my hands and told me something I'll never forget. She said I'm the only one of her patients who made it out alive over the past few months. The only one. Me.  I realized then what a celebration it is when a person recovers. My heart broke at the heavy load these caregivers carry each and every day."
When Tracy arrived at her regular hospital room, there was a long-awaited reunion with Becky, who had only seen her through FaceTime.
"I can't even tell you what that felt like," Tracy says. "She hugged me and I smelled her hair. It was the first time I had been able to smell anything for almost three weeks. I just couldn't let go of her."
Tracy's critical care nurses admit they didn't believe Tracy would survive. But, after 16 total days in the hospital, she was going home for the holidays.
Becky's Cox Branson family in the ER showered the Camdens with meals, cards and even a table on their porch so others could drop off goodies.
"The support they showed us is what family is all about," Becky says. "They were there for us when we needed them most."
One those "ER angels" also arranged another special surprise: a $400 credit on the Camdens' electric bill.
"Becky's team has always treated me like one of their own," Tracy says. "I've never seen a family environment like that anywhere she's ever worked. I have no words."
Tracy is still on oxygen at home but is getting stronger each day. She's excited for the day when she's reunited with some of her other favorite people.
"My school bus kids," she says with a huge smile. "I can't wait for the day they hop on that bus and see Miss Tracy behind the wheel! What a great day that will be!"
Until then, the Camdens are celebrating each other and have a new outlook and an even more grateful heart.
"It's the magic of the season. I believed in it all along," Becky says. "There's something special about this time of year that brings out the best in everyone. This is our time now. There's no bigger blessing than to be home with those you love. This lady right here is my Christmas miracle."
{The Camdens would like to send a special thank you to: The Cox Branson ER team, the Cox South COVID CCU team, the Cox South 500 West-4th floor, our primary care provider Joe Gallagher and all of our friends and family who kept us in their thoughts and prayers.}