Posted by Brandei Clifton on May 1, 2019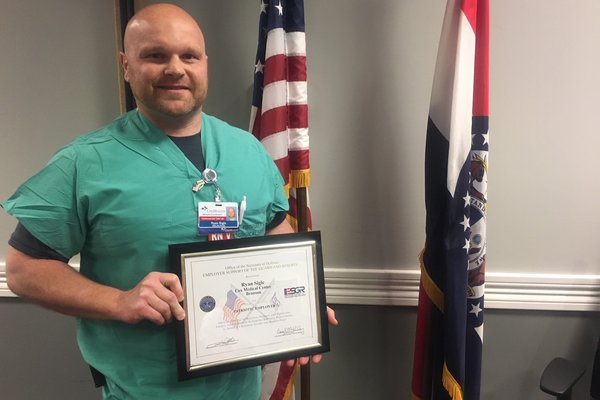 Ryan Sigle, coordinator of Cox Branson's Cath lab, has received the Patriot Award from the Department of Defense for his support of hospital employees who serve in the National Guard and Reserve.
Sigle was nominated by Major Dale Pearson, a Cath lab nurse at Cox Branson, who also serves as a critical care nurse at the U.S. Army Medical Department in Ft. Campbell, Ky., during his Reserve duties.
"Ryan always covers my scheduled shifts so I can complete my military missions," says Pearson. "His support always makes my military commitment work."
Colonel John Hathcock, U.S. Army (Ret.), presented the award to Sigle at a CoxHealth leadership meeting in Branson on April 26.
Rear Admiral (Ret.) Lee Metcalf, the Missouri Chair of the Employer Support of the Guard and Reserve (EDGR) says the Patriot Award was created to recognize individuals who provide outstanding patriotic support to their employees.
"Supportive employers are critical to maintaining the strength and readiness of our nation's National Guard and Reserve units," he says. "Those supervisors – like the citizen warriors who work for them – are truly answering their nation's call to serve.