Posted by Janell Patton on March 17, 2021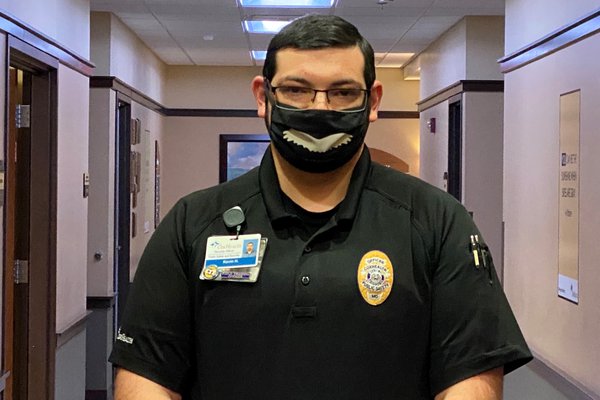 Law enforcement runs in the Hayes family. Kevin Hayes, Cox Barton County Hospital's first public safety officer, always knew he wanted to follow in his grandfather's footsteps in becoming an officer.
Hayes started his career in law enforcement with the Dallas County Sheriff's Office, and then worked for over a year in public safety and security at Cox North.
"The opportunity to come to work at Cox Barton County Hospital really appealed to me since I live fairly close and I know a lot of people," said Hayes. "I liked the idea of being a part of an inaugural public safety program to protect our patients, visitors and employees."
When Hayes arrives for work, a typical day involves greeting staff and making rounds through the departments, exterior checks of the building, receiving up-to-date information on hospital happenings, and checking cameras.
"Public safety is a vital part of any hospital," he said. "If a call comes in for help, an officer can arrive quickly and deescalate the situation so people are not harmed – that is our goal."
Hayes says the entire staff at Cox Barton has been very welcoming and recognizes the need for public safety officers in a healthcare setting.
"I think one of my strengths is developing relationships and the ability to talk to people," he said. "I'm glad to be here, and I hope we can eventually grow the department so our coverage can expand even more."
Cox Barton County currently has openings for public safety officers. Visit coxhealth.com to view the job requirements and complete an application.