Posted by Randy Berger on Nov. 17, 2020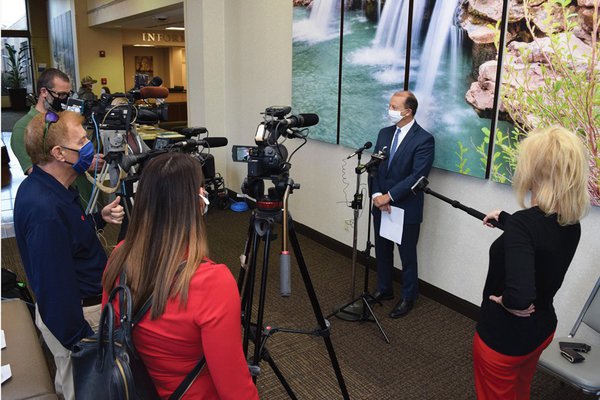 President and CEO Steve Edwards and Infectious Diseases Physician Dr. Robin Trotman took time Monday to update local and regional news media about where we currently stand with COVID-19. Here are a few highlights:
The outlook for the next few weeks
Rising volumes are presenting a challenge to our capacity. Cases are projected to grow rapidly in the next three weeks, with projections of 180 or more patients. Those predictions are driven by a very high symptomatic positivity rate of 35-40 percent.
Meanwhile, Kansas City and St. Louis are seeing record numbers.
"This can be slowed if we follow the guidelines. The next several weeks are worrisome. Our state has taken a hands-off approach so far, and this is a consequence of that," Edwards says. "It is possible to manage through this without lockdowns, if we do the proper measures. We are choosing not to do that as a society."
We are adding beds with the third floor project and we are adding staff with 15-25 travelers coming each week for the next three weeks. In January, new nursing graduates will arrive.
"This can all be helpful if we can convince our community to be more careful," Edwards says. "Our state needs what 36 other states have done with mask mandates.
"A statewide mandate may have made less sense when numbers were low, but now, numbers across the whole state have changed rapidly last few weeks. We have asked the governor to consider a change and I hope he does." 
Holiday gatherings
Edwards stressed that the trajectory of the next few months depends on our behavior. Large gatherings are key vectors for spread and should be avoided.
"I don't want to be the person at Thanksgiving that gave my grandmother COVID," he told reporters. The best advice is to avoid gatherings, or keep gatherings limited to your immediate, micro-family. His family, for example, plans to visit his mom for a physically distanced dessert, in the driveway on Thanksgiving day.
"We have changed our lives and sacrificed for eight months," Edwards says. "I know people are fatigued. This is not about us individually, it's about protecting those around us, which is even more important." 
A six-month lens: 'it will be better'
Dr. Trotman says he is encouraged by early successes with vaccines and treatments.
"I am confident in the vaccine development process. If a vaccine is safe, it will be deployed. If these vaccines make it through the process, I won't be concerned about recommending one for front line health care providers in our systems."
Dr. Trotman says there is hope for an end in sight. He is reminding everyone to think of the current situation through a six-month lens.
"If we tighten down on public health interventions and start to do things right, in six months, things might be more tolerable," he says. "COVID pandemic fatigue is real. It's not going to be over in six months. It will still be a different climate, but it will be better. We have a new reason to feel confident with vaccines."