Posted by Kaitlyn McConnell on Oct. 3, 2019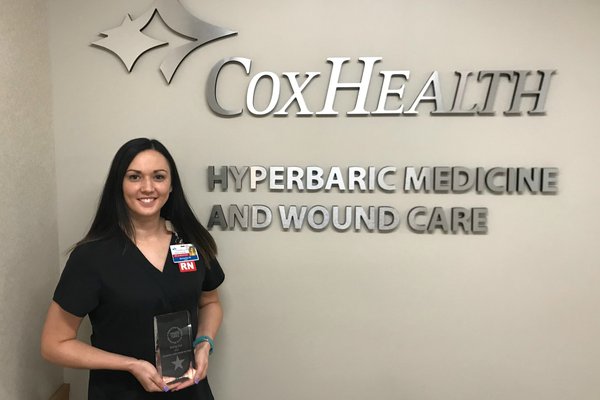 Samantha Wooldridge, clinical coordinator for Hyperbaric Wound Care Clinics at CoxHealth in Springfield and Branson, has been honored with the Rising Star Award.
The award was presented at the recent Baromedical Nurses Association Gulf Coast Chapter Conference in Dallas. It's given to two nurses nationally each year who have been in hyperbaric nursing less than five years, and have demonstrated leadership qualities such as problem solving and supervising or leading department activities as a delegated manager.
"Sam has excelled in her career in hyperbaric nursing in a very short time at CoxHealth," says Dr. Larry Chase, hyperbaric and wound care physician with CoxHealth. "She has a passion for the science of hyperbaric medicine as well as for her patients and teammates. We are very proud of her for winning this award." 
Since coming to CoxHealth in 2015, Wooldridge has moved from a staff nurse to a leadership role as clinical coordinator, and is now mentoring nurses in both Springfield and Branson clinics. She has earned her designation as a Certified Hyperbaric Registered Nurse (CHRN), is enrolled in a BSN program, and is taking Medical Spanish to improve care for her patients.
Wooldridge also assisted the center's preparation for the UHMS facility accreditation survey. Ultimately, it was given Accreditation with Distinction.