Posted by Brandei Clifton on July 15, 2021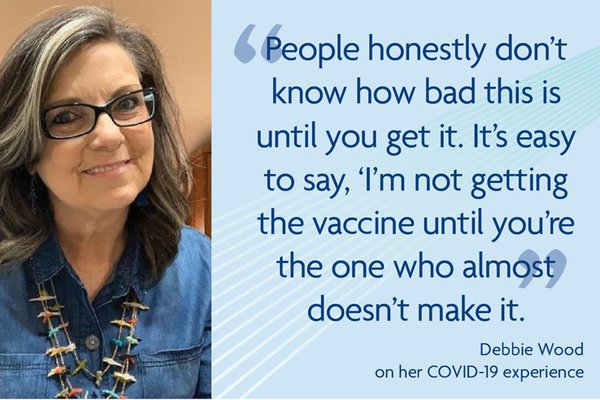 Debbie Wood of Branson had a change of heart about the COVID-19 vaccine after her own hard battle with the virus recently. Debbie is the widow of the community's beloved "Rattlesnake Eddie," a cowboy and owner of an outfitter's store who passed in 2020. Debbie is now opening up about her journey with COVID-19.
This story is not about politics or propaganda, it is about people right here in Branson. People we love. Our friends and neighbors. This is Debbie's story, in her own words:
'This virus is no joke'
"I was in the group of people who did not trust the vaccines, did not trust the rush to get a vaccine out. I did not feel there had been enough testing prior to putting shots in arms. When I became ill with COVID, I had no idea I even had it. Only symptom I felt was indigestion feeling and tightness in my chest. Then day two, I had severe muscle cramps across my back. I actually had went to the doctor to get a shot to help relieve the muscle spasms.
They decided to test me and it came back positive. By day 4, I was so sick I could not eat or hardly drink. I immediately started downhill. Then, my 86-year-old mother who lives with me started to get symptoms. I could barely get out of bed. So sick to my stomach. Still only eating a few teaspoons of food a day. I lost 7 pounds in a week and I'm a small person.
A friend came over and helped me for a day. Then immediately called in my family. They didn't know if I was going to make it. I went to the ER and had the antibody transfusion. But even that did not help me feel better. They sent me home to rest as there was no beds available anywhere near Branson.
The next day, I was sent back to the ER to receive fluids. Thank goodness I had family who had taken the vaccine and were able to stay with me and help save me. I had a lot of friends and family wanting to help drop off food. But no one who could stay with me inside. My mom was admitted to a hospital two hours away. She's very sick. She's been there four days and is expected to stay a few more. I want to make this next statement clear: This virus is no joke! It's real and it can kill you! I saw firsthand how overloaded the hospitals and doctors and nurses are.

I do not believe in trying to pound into people's heads they have to get the vaccine. Because like me, that has an opposite effect of the message you're trying to convey.
People honestly don't know how bad this is until you get it. It's easy to say, "I'm not getting the vaccine" until you're the one who almost doesn't make it.
For me, and I'm speaking only for me, I am going to get the vaccine. With any drug there are potential side effects. Could you still get COVID after getting the vaccine? Maybe. But hopefully it won't be to the extent I had it. I don't ever want to put anyone at risk again for the choice I made not getting the vaccine. Each person has to decide what's right for them. I just know, for me, I would rather take a chance than to ever go through what I've gone through the last two weeks.
Who knows what long-term effects me having COVID could produce as well. I'm not going to tell the community you have to do this. But please just give it a second chance and think about it. Don't make this into a political stronghold. There must be understanding on both sides. I'm just telling you. This COVID is real. It has knocked me to my knees."