Posted by Kaitlyn McConnell on Jan. 24, 2017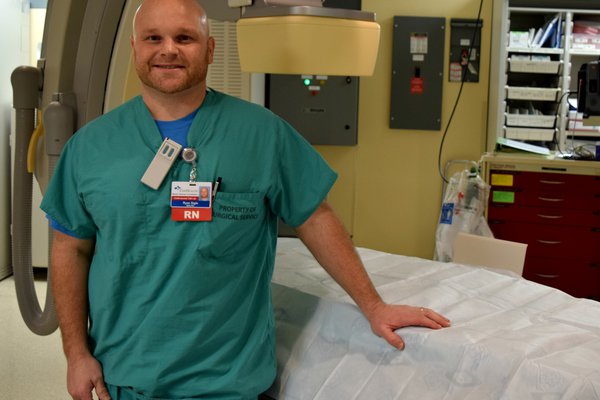 Lower levels of radiation are resulting in a higher level of care for cardiac patients at Cox Medical Center Branson.
The change is thanks to a remodel of the medical center's cardiac catheterization labs, which see thousands of patients each year for heart-related ailments.
Commonly referred to as "cath labs," these labs see the placement of stents, balloons, pacemakers and defibrillators. Also, associated procedures – described as angiograms – often use radiation to illuminate suspected blockages. However, new equipment installed during the remodel drastically reduces the amount of radiation required for such measures.   
"The dose-lowering angiography technology can help decrease a patient's procedural dose of radiation by 50 to 75 percent," says Ryan Sigle, manager of Cox Branson's cath labs. "This technology allows us to achieve excellent angiogram studies at a much lower X-ray dose, providing a huge benefit for our patients."
In addition to reduced radiation, other positive changes may come as a surprise to patients. "In the cath lab, we have come a long way in procedures, especially here in Branson," says Sigle. "We offer radial artery access for the heart catheterization procedure, which means we can go through the wrist to see if there's any coronary blockage in the heart."
Regularly scheduled procedures, however, aren't the only focus of the cath labs. "We're also open 24/7 for emergencies," says Sigle. "When that happens, we take care of cardiac issues as soon as they arise."
The health system is well prepared to care for those events where every single second counts. "The department's case load continues to increase with the addition of cardiologists, and the care that we are able to provide our patients," says Sigle, who estimates that Cox Branson's cath labs sees thousands of cases each year. "We are able to offer state-of-the-art technology right here in Branson, Missouri."
That technology is overseen and administered by Cox Branson's highly trained team. Currently, cardiologists Dr. Narin Arunakul, Dr. David Lemons, Dr. Robbie Mangalasseril and Dr. Prasert Vijit  serve the medical center's patients, with a fifth physician set to come on board in August. It's all proof of the great care at Cox Branson: Care that keeps the health center's patients close to home.
"Our equipment and team members are second to none," says Sigle. "We are very blessed to have the resources that we do, and be able to treat our patients without them having to travel for the care they need."