Posted by Yvette Williams on Dec. 11, 2020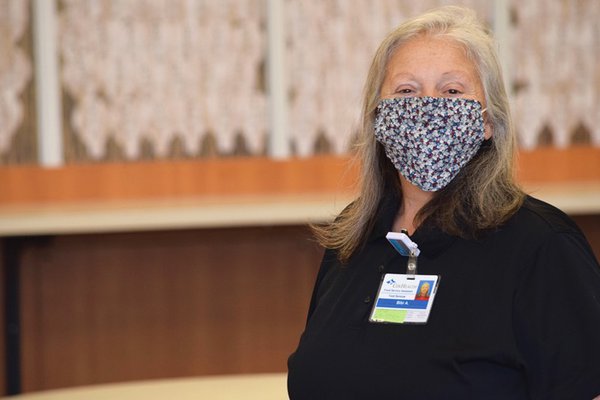 CoxHealth felt like a family to Bibi Albrecht even before she started working here.

Her husband, Ernie, had a brief career in Food Services. It was a role he loved, cut short by a series of health challenges. Sadly, he passed away this summer.
Ernie worked at CoxHealth for less than a year, but in that time, Bibi would witness firsthand why his work was so special to him.
Health care workers are known for caring for patients, but she saw how our colleagues also care for one another. The concern and love she saw Ernie receive was inspiring.
It was something special she knew she wanted to be a part of.   
A friend 'like an angel'
Back in 2019, Ernie came out of retirement to take a job as a cook in Food Services at Cox South. He had been an executive chef in his first career, so it was a natural fit.
Bibi remembers when Ernie would come home after his shift, he always had good things to say about working at CoxHealth. 
"I thought, 'This job must be awesome,'" Bibi says. "I sure would like to work there one day."
One day on the job, Ernie started feeling sick. His supervisor, Jesse Baedke, Food Services manager, came to check on him and encouraged him to go to the ER.
He was having a heart attack. Ernie had surgery and surgeons placed a lifesaving stent.
This wasn't the only time Jesse's friendship would make an impact on Ernie and Bibi's lives.
A few months later, Ernie was working in the kitchen when he began feeling fatigued. It was Jesse who noticed that Ernie's skin was turning pale yellow. Again, he urged Ernie to get his symptoms checked in the ER.
There, a CT scan found pancreatic cancer.
"Jesse is like an angel," says Bibi. "Jesse was there. It was amazing. Ernie came home and started receiving hospice care. Jesse came over two or three times just to talk to him. He has a sweet heart. I love that kid."
'I just felt Ernie being there' 
After Ernie passed away, Jesse came to visit Bibi at home, bringing her food and a plant. As they talked, Jesse asked if Bibi would want to be involved at the hospital, as a volunteer or to work a few hours a day.
After a time, Bibi, a retired nurse, started feeling motivated to do more than staying home. She remembered Jesse's suggestion to get involved. 
Bibi applied for a job and was hired as a kitchen assistant in the Cox South cafeteria, where Ernie had worked. 
"As I walked in the kitchen, I just felt Ernie being there, kind of like a presence," Bibi says. "People would come up to me and give their condolences, tell me what a great worker he was. I felt like I was welcome.
It felt like a family. I felt the closeness of my husband."
Bibi says what Ernie had started in the kitchen at Cox South, she wants to carry on now. She sometimes takes food to different units that knew Ernie, and Bibi gets hugs. CoxHealth is her family now, too.
"I feel I belong here," says Bibi. "When I come to work now, I look at my job as a blessing and how wonderful it is to work here."