Posted by Kaitlyn McConnell on Dec. 18, 2019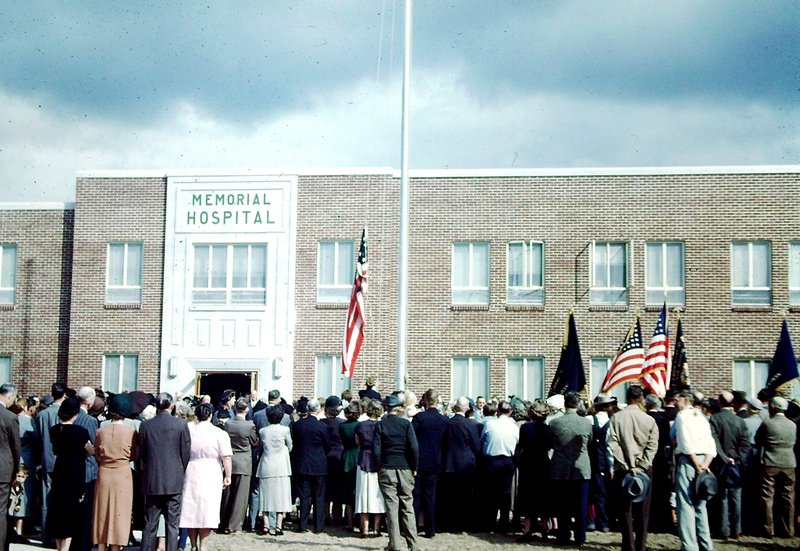 Thousands of people gathered for the dedication of Barton County Memorial Hospital in 1949. (Courtesy of Barton County Historical Society)

---
As World War II came to a close, the people of Barton County sought to do something to honor their fallen soldiers – their sons, brothers, husbands, cousins and friends – in a way that could keep their memories alive.
"They wanted to do some kind of tribute," says Joe Davis, a volunteer with the Barton County Historical Society, who notes that ideas like a swimming pool or a library were proposed. But then a new idea came to mind: A hospital, where local folks could receive the care they needed to be well and live healthy lives.
It was believed that government funds could help fuel the project, but locals quickly threw their weight behind the cause as well.
"Barton County voters voted overwhelmingly in favor of the construction of the proposed Barton County Memorial Hospital in a special election yesterday," recorded the Moberly Monitor-Index newspaper in February 1946. Nineteen of the 23 precincts reported 3,047 to 272 in favor of the hospital, would will be built for approximately $100,000. 
But then came some bad – or good, depending on how one looks at it – news. The federal government said that for a town of Lamar's size, a 50-bed hospital was recommended instead of its original 30. The increase would greatly expand the cost of the project to a level insurmountable for the rural community to raise.
That reality, however, didn't stop local folks. Instead of relying on federal funding, voters again stepped up and another levy was passed that gave an additional $100,000 to the project.
"People really wanted it," says Davis of the hospital.
Construction on the hospital began in July 1948. In October, a cornerstone was laid to mark the significance of the occasion and the building which would serve Barton County for decades. The day was memorialized in the hospital's anniversary publication in 1999:
"Under cerulean skies the vast crow(d)s gathered to join the line of march toward the hospital site a little after two. As the magnificent float, of red, white and blue with its impressive colonnade supporting the tablet with names of the dead, and in behind the band, there were audible gasps of admiration from the onlookers and tears filled many eyes.
"As the float and the procession proceeded slowly north on Gulf Street the sun god himself seemed to pause in his rapidly descending southbound flight to bathe the scene in an especial warmth and glory." 
Over the next year, the facility came to life.
"Since the new hospital was to be a proud memorial to those who gave their lives in the World Wars, many of the original gifts came from various VFW Auxiliaries, but just as many came from dozens of citizens of Barton County, and every donation from $2.00 to $1,000 was noted in the Lamar Democrat (newspaper)," noted the hospital's anniversary publication. The grand total was $15,960.52 – the equivalent of more than $170,000 in 2019.
Finally, it was ready for unveiling in October 1949.
"The Barton County memorial hospital, the first in the state to be erected in honor of World War II dead, was opened for public inspection today," preserves the pages of the Sunday News and Tribune in Jefferson City. "Tomorrow the $300,000 building, erected with a bond issue, donations and public subscriptions, will be formally dedicated. The American Legion and the Veterans of Foreign Wars will take part in the ceremony, which includes the presentation of a bronze memorial plaque bearing the names of the 6(9) Barton County men who lost their lives in the war."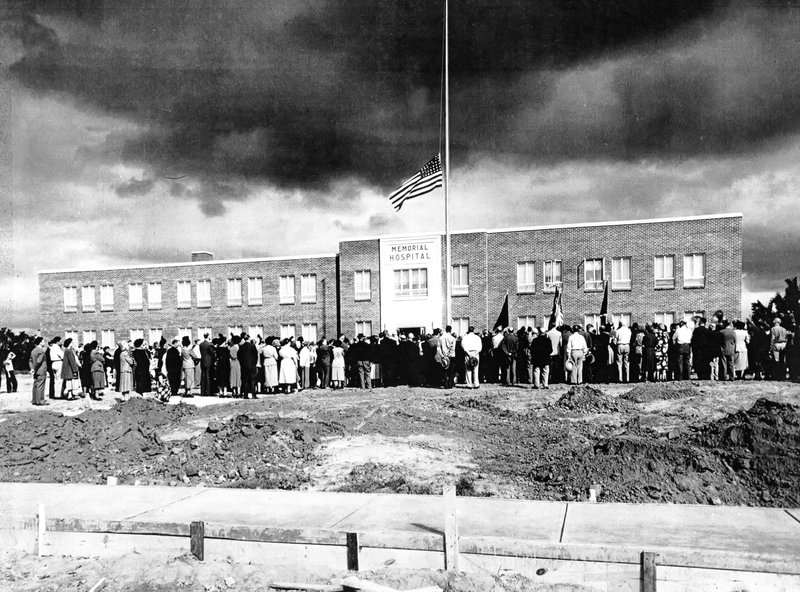 The dedication of Barton County Memorial Hospital was held in October 1949.
(Courtesy of BCHS) 
---
That opening set in motion a legacy of care and compassion for families throughout the area.
"Well things were moving as sweetly as a marriage bell up at the hospital, Monday," noted the Lamar Democrat in October 1949. "The first patient listed on the register of the new Barton County Memorial Hospital was that of a day old baby, Deanna Joyce Stansberry of Golden City. … She was born at the Lamar Clinic Sunday morning. Along with her mother she was taken up to the hospital at opening time in the Konantz ambulance, Monday. Mother and baby were doing fine. They will remain at the hospital for a few days."
Over the next 50-plus years, history was made there; lives were changed there; babies were born there.
"It's just a neat place," says Davis. "If you're from Lamar, you were probably born there, had a family member born there.
"Back then, you had to be 12 to go inside. Dad would bring them out here and they would bring the baby to the window. I've heard that story a lot."
The hospital grew and expanded, too, and various additions materialized over time. In 1963, capacity was increased to 56 beds. In 1972, an Intensive Care Unit was added; in 1988, a Skilled Nursing Unit came to be, increasing bed count to 66; and in 1991, an ancillary wing was added with emergency services and a helipad, wrote Davis in a June 2019 article.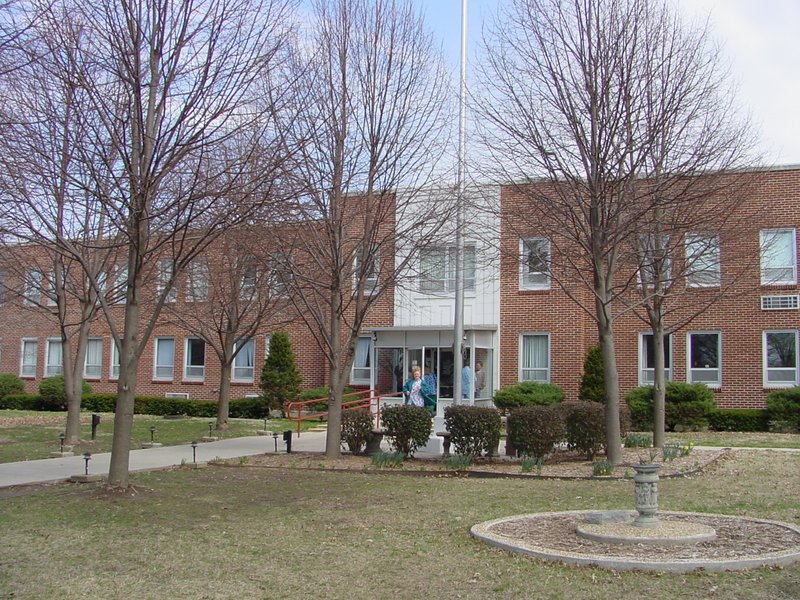 Barton County Memorial Hospital is shown in 2002. (Courtesy of BCHS) 
---
Eventually, however, it was decided that for the hospital to continue to serve the community, it needed a change.
"The hospital was considered too expensive to maintain and lacked the room to expand anymore," wrote Davis. "In 2003, the board of trustees decided to construct a new hospital. In 2007, the new Barton County Memorial Hospital was opened at its new location west of 71 Highway."
That is where the hospital currently serves patients. Today, though, a few things are different – starting with its name. On Jan. 1, 2018, Barton County Memorial Hospital joined CoxHealth, becoming the health system's sixth hospital.
"One of CoxHealth's priorities is to expand our services in the region and improve access to health care for people in the Ozarks, so this partnership is a perfect fit for us," said Steve Edwards, president and CEO of CoxHealth, in a press release announcing the merger in October 2017. "We are excited about providing care in a new area of the Ozarks, and being able to partner with Barton County Memorial Hospital. By combining the strength of CoxHealth and BCMH we believe we can expand services in Barton County, find new efficiencies, and bring new resources to the community that just would not be possible for a standalone hospital."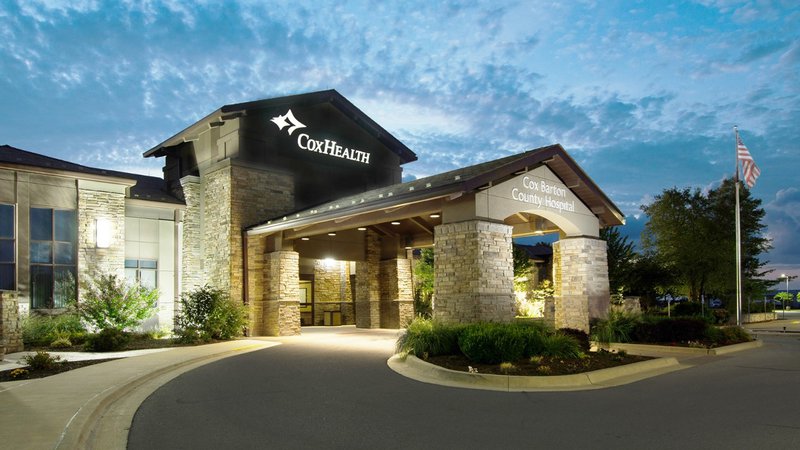 Cox Barton County Hospital 
---
Today, Cox Barton County Hospital is thriving. As a critical-access hospital, it offers primary care, an emergency department and walk-in care, as well as specialized care in a range of areas. 
The hospital was accredited by DNV –GL Healthcare in 2019, which means that the hospital meets or exceeds patient safety standards (Conditions of Participation) set forth by the U.S. Centers for Medicare and Medicaid Services (CMS). Additionally, the hospital was nationally recognized by CMS with a five-star rating for patient satisfaction in 2019. The distinction was awarded two only two critical-access hospitals in Missouri, and the other was Cox Monett Hospital.
Fundamentally, in a day and age when health care in rural areas is of great concern, the Lamar hospital provides citizens around Lamar with access to the care they need.
"Due to a variety of factors, hospitals in many rural areas of the country are closing, even though patients need care," says Chris Wyatt, president of Cox Barton County Hospital. "These 'health care deserts' are extremely concerning. However, thanks to its connection with CoxHealth, we are fortunate at Cox Barton County that the hospital is doing very well. We are also very thankful for our excellent staff, who make a difference every single day, and for our community for supporting this hospital for so many years."  
Plaques commemorating the hospital's history as a memorial still share from its walls.
---
While "memorial" is no longer part of the hospital's name, plaques that have long honored the fallen soldiers still remind – and soon will the original hospital's site. 
After the former hospital was demolished in 2019, Davis and others are now working diligently with local leaders to have the grounds dedicated as Barton County Memorial Park.
"We wanted to swoop in before the memorial is lost. This is sacred ground," says Davis. "It took a few months but we finally got them on board that it could be something really special."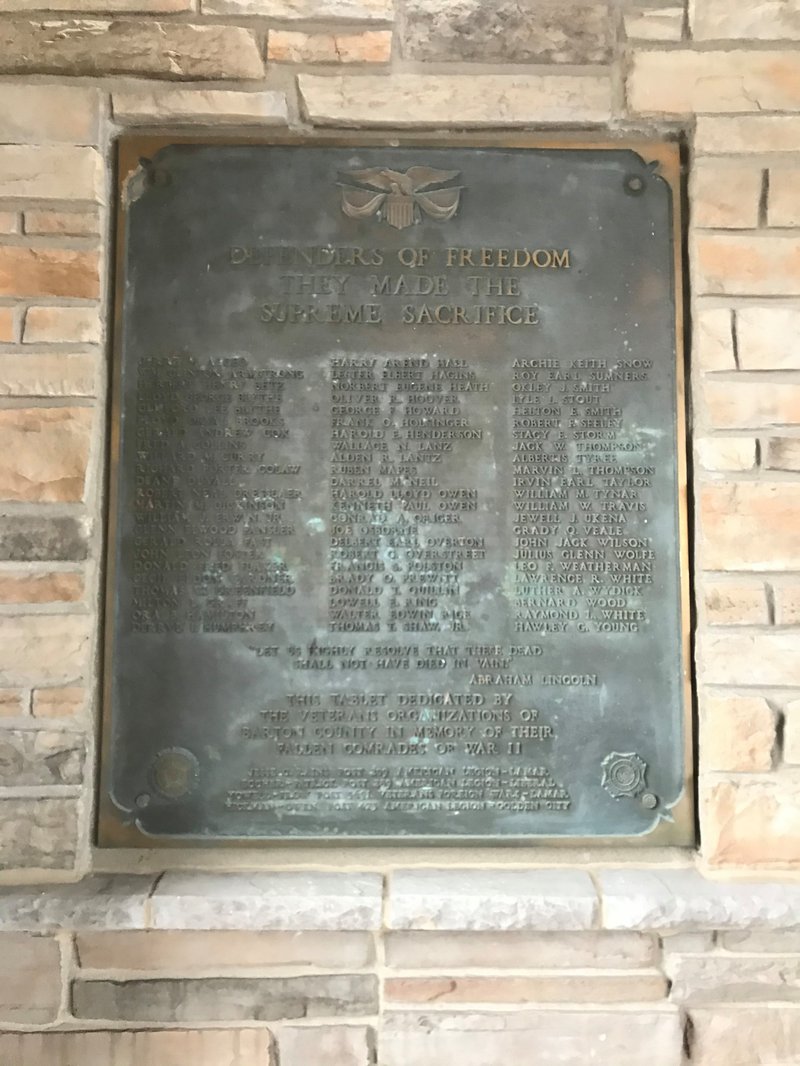 Resources
"Barton County Memorial Hospital," Joe Davis, June 12, 2019
"Cox Barton County successfully achieves DNV-GL accreditation," CoxHealth news release, Nov. 4, 2019
"Hospital at Lamar to be opened Oct. 1," Joplin Globe, Sept, 13, 1949
"In Dignity and Splendor," Barton County Memorial Hospital anniversary publication, 1999
"Memorial hospital is voted in Barton County," Moberly Monitor-Index, Feb. 20, 1946
"Memorial hospital to be dedicated today," Jefferson City News and Tribune, Oct. 2, 1942
"Two CoxHealth hospitals earn 5-star ratings from CMS," CoxHealth news release, Feb. 15, 2019