Posted by Kaitlyn McConnell on Oct. 17, 2019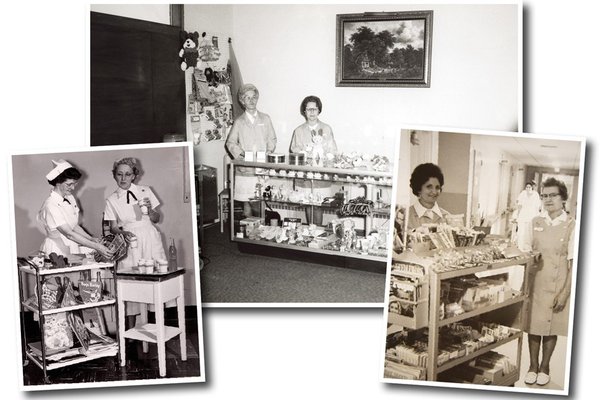 The CoxHealth Auxiliary in Springfield began with a suggestion from Lester E. Cox.
Much has changed about CoxHealth – and the region – since its Auxiliary was organized in Springfield in 1949. 

Women, sourced through many local civic and church groups, were willing to lend their hands and hearts to form what was then known as the Burge Auxiliary. Their mission: Serve the greater good by donating time and raising money for patients and the hospital. 
The group has grown and transformed over its seven decades. Today, the CoxHealth Auxiliary has around 1,200 members in its ranks, and every year, raises nearly $211,000 to serve patients through the health system.  
"Our auxiliary members have given time, money and their many talents to take care of our patients and employees for nothing in return but a meal in the cafeteria, and some of them don't even take that," says Barbara Frogue, director of the CoxHealth Auxiliary. "Our employees, as good as they are, cannot be everything to everyone.  They can't spread themselves that thin and do their job effectively. Our volunteers can be there to help make health care even more effective for our patients." 
Post-WWII beginnings
The world was a different place when the Burge Auxiliary began. 
Just a few years after the end of World War II, the country was still fresh with wounds. Locally, much had changed: O'Reilly General Army Hospital had seen huge numbers of soldiers through the city. Perhaps war work saw volunteer labor during those years; maybe people were in the mindset of giving back. 
It was the perfect time to form a new group to help serve the needs of then-Burge Hospital. The group's formation coincided with the same year that Lester E. Cox became chairman of Burge's board of directors, a move that saved the hospital from closing. 
Cox quickly made suggestions and changes at the hospital, and one of his ideas concerned an auxiliary. 
"In 1949, Mr. Cox said he would like to see an auxiliary formed, and so it was, becoming the first in the state," recounted Grace May, former Burge Auxiliary president, in a book about Lester Cox. "He also gave each woman a uniform. Mr. Cox made us all feel we were part of the team, and that brought out the best in us." 
The group quickly found success. A Springfield newspaper article shares how the group formed with support from 14 local federated and civic clubs, and 28 churches, who helped establish interest and a group of workers: 
"Burge hospital and Springfield should be proud of that hard-working group of women known as the Burge hospital auxiliary," printed a Springfield newspaper in 1950. "In the 10 months that these 400 women from 63 churches, both inside Springfield and out, have been organized they have raised $900 ... and have sewed 600 yards of material into bedding and hospital garments, have canned 1,630 quarts of fruit, vegetables and juices, bought a movie projector and screen for the patients, an incubator for premature babies, new furniture for the nurses' home (and) a service cart to travel from patient to patient." 
By 1956, a Burge publication says the group – as well as the Junior Auxiliary, which was for young ladies – had grown to over 800 members. "These ladies give untold hours of service for the benefit of the hospital and its patients," the publication printed. 

Driven to make a difference
Over time, the group has evolved, but its members have always remained leaders in the community and across the state. 
One of those longtime Auxilians is Carolyn Bousman, who began serving with the Auxiliary in 1978 after her children were grown. Serving patients at the hospital gave her a new mission and way to give back. 
Now with more than 17,000 hours of service, she still volunteers every week at the North Entrance information desk at Cox South. Her duties have changed over the years, but the mission has remained the same. 
"Making a difference for patients is something that has been a key reason why I enjoy this work," says Bousman. "The friendships you develop are another reason I really have enjoyed the Auxiliary so much." 
Many ways to give back
Volunteer work is something Auxilians still do, but helping with fundraisers is another way to give back. 
"Over our 70 years, the Auxiliary has funded many projects," says Frogue. "In 2009, we gave $25,000 to the new Emergency Department, and in 2014, $70,000 to the Jared Neuroscience Center. We gave $25,000 to Cox College in 2017, and another $40,000 in 2019.  
In 2019, the Auxiliary began a new project: A fully funded college scholarship for CoxHealth employees to go back to school in the allied health field. It joins other scholarships long provided to students at Cox College. 
"The scholarship has been our most important initiative," says Frogue of the scholarships for Cox College. "We also give over $100,000 a year to fund scholarships for nursing students at Cox College." 
Another key focus is the Auxiliary's annual car, bike and truck show named "All Things Wheels." The show, started in 2016, raises funds tied to the state hospital auxiliary board's key initiative – but the money raised funds local initiatives. 
Such efforts lead Frogue to encourage those interested in helping others to join the Auxiliary, which has been named by the Missouri Hospital Association as Auxiliary of the Year 12 times in its division since 1981. 
"It will make them a better person, and it will make them feel better to help others," she says. "There are so many needs and everyone has something to give."