Posted by Brandei Clifton on June 25, 2018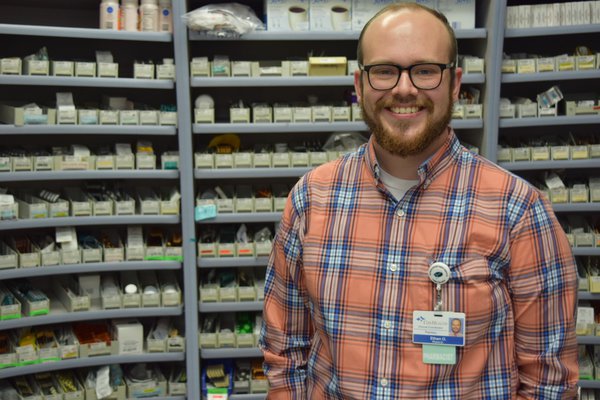 Ethan Osborn is a firm believer that life's plan is all about perfect timing.
Osborn, the pharmacy clinical coordinator at Cox Branson, seemed to have his path in place, but a desire from his past recently began pulling him in. Raised as a Southern Baptist, Osborn converted to Catholicism his junior year in college. While attending pharmacy school, he began to contemplate pursing priesthood.
"The desire was there, but the timing was all wrong," he says. "I was in the middle of my studies. And, although I kept telling myself 'not right now,' the idea of becoming a priest continued to crop up, and I continued to think about it."
Osborn pushed aside those recurring thoughts and went on to graduate pharmacy school in 2014.  He joined Cox Medical Center Branson a year later. "This job has taught be so much about serving people," he says. "It's opened my eyes to seeing life from other people's perspectives."
That new perspective gradually led to what he considers his calling. "Some people have a very specific moment they can point to when they were called to the priesthood," he explains. "For me, it wasn't quite like that. It was a gradual process of praying about it and talking to my pastors about my desire and having them direct me."
Osborn also credits his CoxHealth co-workers for exposing personal traits that have drawn him to serve the church. "I see what they're dealing with outside of work, and that changes the way I treat them," he says. "As a pastor, that's what we're called to do – wade into the deep with people of the church and accompany them in whatever struggles they're facing. We are the light of Christ to people and remind them that no matter what they're going through, I want to be there to accompany them and remind them of God's love."
While committing to this next life chapter feels right for Osborne, he admits it wasn't always an easy decision. "I had to come to terms with what a traditional family will look like for me," he says. "This isn't just about me. It's not only my life I'm affecting. In a way, it's a dying dream to have grandchildren for my parents. I sympathize with that. Ultimately, if this is something I'm called for, God has our best interest. Instead of having a wife and family, I'll be married to the church. My identity will change. This won't be a hobby or a job, it's a lifestyle."
Osborn's journey to priesthood begins later this summer. His first day at the St. Meinrad Seminary in St. Meinrad, Ind., is Aug. 24. From studying pre-theology to obtaining a Master's degree in theology, the pursuit of priesthood will take about six years. Osborn will be assigned to a church or ministry throughout his studies. Once ordained, he will be assigned to lead a church in the Springfield-Cape Girardeau Diocese – potentially right here in the Ozarks.
As his days in the pharmacy wind down, Osborn reflects on his time at Cox Branson with a smile. "I love this place and everyone here. While my new opportunity is exciting, I can't help but be a little sad. I guess there's always a sort of sadness associated with a good thing ending."