Posted by Randy Berger on April 7, 2021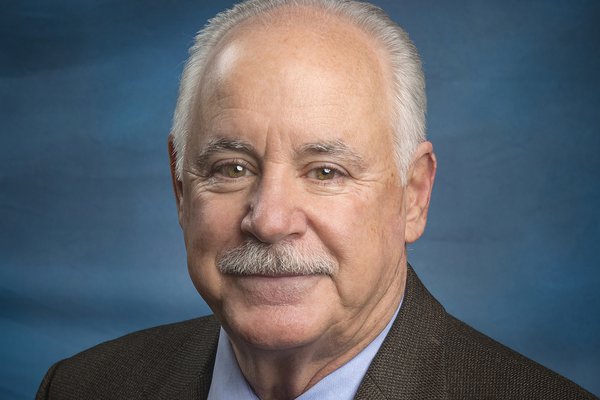 Over the past 12 years, Alan Butler has worked in contract security, overseeing and advising security departments at dozens of hospitals. He has been an advocate for health care security as a profession, serving as 2019 president of the International Association of Healthcare Security & Safety (IAHSS) Board of Directors.
He comes to CoxHealth eager to return to his roots: working on the front lines.
"After consulting from outside hospitals, I wanted to get back inside health care and improve things on the ground," he says.
Prior to joining CoxHealth, Butler worked in the security division of HSS, a Denver-based company specializing in security services for health care. Most recently, he served as HSS's Vice President of Healthcare Security.
He has built a 30-plus-year career in health security, a field he found a passion for almost by accident.
Butler began his law enforcement career with a nine-year stint as a Dallas police officer. Toward the end of his time there, he worked in narcotics.
He and his wife, who was also a DPD officer, were talking about starting a family.
He remembers his wife telling him: "You can do anything you want, but not narcotics."
He started looking for opportunities. By chance, a friend needed someone to work in a university medical center's department of public safety.
It wound up being a perfect fit.
Over the years, he worked as director of security for organizations such as the University of Wisconsin Hospital and Clinics in Madison, HCA/Medical City Dallas Hospital and Baylor University Medical Center in Dallas.
"I found a place in health care that suited me. To live the mission of public safety in health care that is consistent with the background in law enforcement."
Butler joined us for a few questions when he arrived in Springfield.
AT WORK
What made you want to come to CoxHealth?
I knew your former leader through the International Association for Healthcare Security and Safety, so that's how I knew the position was open.
At HSS, I managed the health care security division. We were working with 200 hospitals nationwide – everything from small rural facilities to inner city safety net hospitals. It was a lot of managing though others.
This feels like starting over again. I am a people person and I wanted to get back into the hospital, where I could be with people and do what I do best.
CoxHealth is an organization that has made public safety a priority. Public safety and security is an extension of the mission of health care and I want to help CoxHealth fulfill the commitment to create a safe care and work environment.
And, I wanted to come to Springfield based on the community. The pace is a little slower than Denver or Dallas.
Dairy farmland is where I grew up. It's so nice to see cows again.
What originally drew you to law enforcement?
I wanted to be in the people business and law enforcement offered me that opportunity.
I wanted to be where things were happening and have the ability to influence situations.
That has been my personality from the start of my career to working in health care – I liked being there and having a seat at the table with the opportunity to influence the outcome.
What is special about working in health care security?
I like being closer to the people you serve in health care public safety. In law enforcement for a whole city, you may see someone once and never again.
In health care, there is a good chance the people you deal with today, you will see them again tomorrow. We need to have compassion and we have to recognize no one comes to the hospital because they want to. They have to.
And, public safety helps employers become -- and stay -- employers of choice. Staff want to know they can come here, do their jobs, and stay safe.
You have spoken about health care security as being a unique profession, separate from law enforcement. Can you explain that distinction?
When I was a cop, there was a stereotype of "security officers just wanna be cops."
The reality is, most security officers in health care don't want to be police officers. They want to be health care security officers. They have found an alignment with the mission of health care. They want to contribute to a safe work environment.
Health care security is a profession. That is my platform. We have come a long way, with our professional association, credentials and structured training to fit into the environment we work in.
The person law enforcement brings into the ED may be a prisoner, but when they come in the ED doors, they are our patients. There is a big difference between those two things.
Our mission is to take care of the patient.
What are the biggest trends affecting security right now?
Specifically in health care, the biggest problem is patient-generated violence. You also see behavioral health problems, abuse of alcohol and drugs and other issues, but its impact is the violence it generates toward our care providers.
What happens in health care is a reflection of what happens in society – whatever happens in the community, however large or small, will wind up in your health care organization.
Good security requires three fundamentals:
Use of technology
Hospital staff education
Security presence or more simply put, having the right type of staff in the right place at right time
The most important component of a successful health care security program is an engaged, educated staff.
We have to provide staff with the tools they need to protect themselves, especially to proactively assess violence before it happens.
You may have a few officers available, but a unit may have 20-30 staff members who can recognize what is about to happen. As a team, they have to deal with that.
We can get desensitized when it is "our space" and we are there every day. Instead, staff need to train for their environment and have an everyday personal safety plan.
We always own the task of providing a safe care environment. We as an organization have de-escalation training and we use a risk-based model for that training, so high-risk areas and job roles are trained and more condensed training is available for others.
What experience have you learned the most from?
Out of all the security and law enforcement roles I have had, the thing that taught me the most was when I was asked to lead the patient satisfaction initiative for a 700-bed hospital in Dallas.
For four or five years, in addition to managing security and guest services, I led the patient satisfaction initiative.
We built a program around the principles of what was most important for patient satisfaction. The result was an engaged team of leader and staff who drove our scores up quarter over quarter.
Those years taught me more about health care than all the rest of the time in security. I met hospital leaders on their turf and got to understand their business. It taught me a lot about where security fits in the health care equation and how we can best support our clinical partners.
OUTSIDE WORK
What is your perfect day off?
I am an avid golfer. Starting the day with 18 holes of golf is the best. I love to walk and I can get 20,000 steps on a golf course.
My perfect day would end with dinner with my family. My wife is my best friend. We have spent more than 30 years together and have two great kids.
What are you looking forward to about living in Southwest Missouri?
I can't wait to get on the lakes; that is something Colorado doesn't really have. I would like to spend some time in Branson. There are lots of neat things to do there. And, we all have bikes, so we are excited to do some biking.
What is something surprising that people might not know about you?
Before I became a police officer, I was a typical teenager and then a college kid who tiptoed right up to the line on everything I could, just to see what the world was about. I tried to get away with everything I could.
When I became a police officer, I had discretion when I bumped into kids doing those kinds of things. The fact is, people screw up. I sometimes cut people loose and hoped they had learned their lesson.
What about entertainment – what are you a fan of?
I am a big sports nut! I am a Dallas Cowboys fan, even though that can be painful.
People here will be disappointed to know I am a Wisconsin Badgers fan. The marching band practiced outside my window when I worked there. If you think the football team works out hard, you should see the band work out. I definitely developed an appreciation for it.
Musically, I'm a big Eagles fan. 70s rock and roll is a mainstay for me.
When I am trying to get something done, I listen to a lot of music from movies.
Of my 2,000 songs on my phone, a lot are a lot film scores. I'm a huge Hans Zimmer fan. His score for "The Last Samurai" is a favorite.
If I need to be by myself and work on something, I put on noise canceling headphones and it's perfect.