Posted by Kaitlyn McConnell on July 18, 2017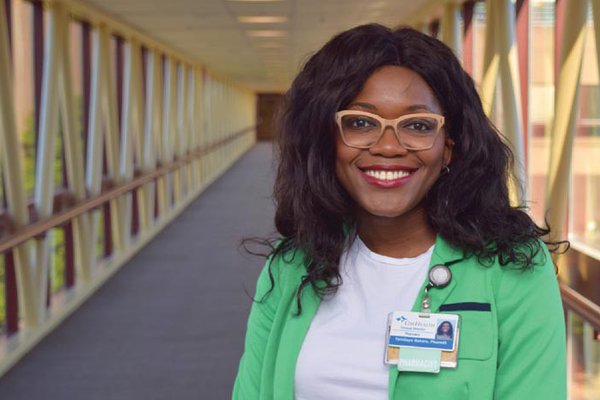 Temitayo Bakare is one of those people who like to get things done.
A child of Nigeria, Temitayo came to the United States when she was 17 for college in New York City. A master's degree in management from Harvard University was soon checked off her list. She became CoxHealth's system clinical director of Pharmacy in 2014. And In June 2017 – 20 years after moving to New York – Temitayo accomplished another of her long-term goals: She became a U.S. citizen.

"It's a major privilege," says Temitayo of becoming a citizen. "It's not a right, and I appreciate it for what it is."

Growing up, Temitayo wanted to move to the U.S. for college – but she didn't know if she'd be able to. After all, the visas are extremely difficult to get. Thanks to an aunt's support, however, Temitayo eventually got word that the U.S. government would allow her to come. What came next was a whirlwind weekend that started with an interview at the U.S. Embassy and ended with her landing in New York City.

"That's what I always expected the U.S. to be," says Temitayo of her first days, filled with the hustle and bustle of a big city. "It was nothing like I'd ever seen before."

The next few years showed Temitayo that there was much more to the country than what she originally saw. She moved from NYC to Pennsylvania for her pharmacy residency, where she worked to change her visa status to allow her to work. The decision was far simpler than the actual switch.

But thanks to a manager who offered to be her sponsor, Temitayo's visa was approved. She was only going to be there for a year, but her manager's help had a huge impact. "He loved me like I was his own daughter," she says, noting that once she saw that, "I knew that compassion could happen everywhere. Genuineness of people doesn't have to do with their color. Genuinely good people are just good." 

After receiving approval to work, Temitayo went to Boston Medical Center where she worked as a clinical pharmacist. It was then she earned her master's, and met her future husband, who lived in Springfield. That meeting kicked off a busy time: She moved to the Ozarks in 2013, had a baby in 2016 – and, after years of effort, qualified for citizenship in 2017.

That process is not an easy one. There are residency requirements, background checks, and thousands of dollars spent on applications. There are biometrics scans, a face-to-face interview and a naturalization test. And then, for those who meet all the qualifications, there's something else: A swearing-in ceremony to make it official. 
On June 1, that day came for Temitayo. 
"I'm one of the lucky few," says Temitayo, who adds that she's excited about the privileges that come along with being a citizen, such as voting. "No longer can I be a spectator. I'm even looking forward to jury duty."