Posted by Mary Beth Manganiello on Feb. 14, 2018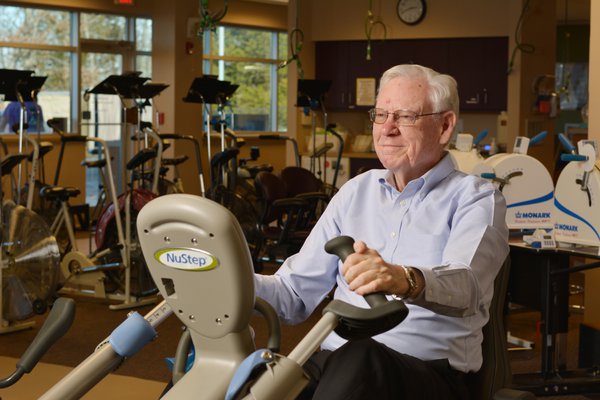 February is American Heart Month
For the past 16 years, Branson Alderman and business owner Bob Simmons has been making cardiac rehab part of his weekly routine. Simmons had a heart attack in 2001 at the age of 58 and in 2015, he underwent open heart surgery.
"My doctors recommended I attend cardiac rehab and I was glad they did because over my first 58 years, I had nothing wrong with me," explained Simmons. "I might have been to the doctor three or four times in my life and I'd taken practically no medicine in that time and then all of a sudden, I had a heart attack."
Following the heart attack, Simmons was placed on four strong medications and he continued to not feel well.
"I was still going to work every day and at 58 years old, trying to keep up with my routine. When I started rehab, that helped me a great deal," Simmons said. "At rehab, they were able to explain to me what had happened to me, what my medications were doing to me and they started me on an exercise routine where I felt safe. If your heart just stops, and even though it's started again and going, you always have it in the back of your mind that it could stop again at any second. When they gave me a routine and told me how much I could do and they started me out slowly, it gave me the confidence that while yes, my heart could stop at any time, it's probably not."
Simmons said his workouts slowly increased and so did his confidence. Cardiac rehab is a 12-week program with patients attending rehab three times a week. Once completed, Simmons enrolled in the cardiac rehab maintenance program where he continues to work out at the rehab center under the supervision of the rehab nurses.
Simmons credits the structured schedule of the sessions as to why he's continued to attend and flourishing 16 years later.
"I started rehab because by making it a scheduled appointment on my calendar, it made sure I was exercising," Simmons said. "Then I got into the habit of going and I got very dependent on it. A lot of people says it invigorates them and they feel wonderful when they leave. It doesn't do that for me. It makes me feel tired and I want to rest when I leave but I feel that is all the more reason to do it because it does keep me active and it does build my confidence."
In 2015 when Simmons had open heart surgery, he was anxious to get back to rehab.
"I knew cardiac rehab would get me back up and get me functional again," he explained.
And it did. At 74, Simmons remains active.
"I've been doing cardiac rehab so long, I think it's played a major role in my cardiac health," he said.
His wife, Mary Lee, attends rehab sessions alongside her husband. He describes her as his helper and coach.
"She's made it her life work since 2001 to keep me alive and so she makes sure that I walk two miles a day or I come to rehab," he said.
Simmons describes the staff at CoxHealth Cardiac and Pulmonary Rehab Center in Branson as unusual.
"I've been coming for 16 years and some of these ladies have been here pretty much all that time," he said. "We've been together so long, they are pretty much part of my family. There's an extra passion that rehab nurses have. We all come in here with something different and it's really easy after a heart attack to feel that you are nonfunctional, that you've had something happen to you that could end your life at any time and so they pick up on that quickly, they deal with those fears and they don't give you more than you can do."
Each year, an estimated 935,000 Americans will have a coronary event and more than 30% will have a second and potentially fatal one, according to the American Heart Association. Cardiac rehab reduces the risk of a future cardiac event by stabilizing, slowing or even reversing the progression of cardiovascular disease. While cardiac rehab has clear and tangible benefits, it's estimated that less than 20% of all eligible patients ever participate.
Skaggs Foundation is working to eliminate one of the biggest barriers for many people – the cost. The average insurance co-pay per session is around $25. At three sessions a week for 12 weeks, it is more than many patients can afford. Through the foundation's Cardiac and Pulmonary Rehab Patient Scholarship Fund, the foundation is providing scholarships to patients who otherwise could not afford to go.
If you would like to learn more about the scholarship program or how you can help sponsor a patient's rehab, click here or call 417-348-8998.