Posted by Kaitlyn McConnell on Dec. 1, 2016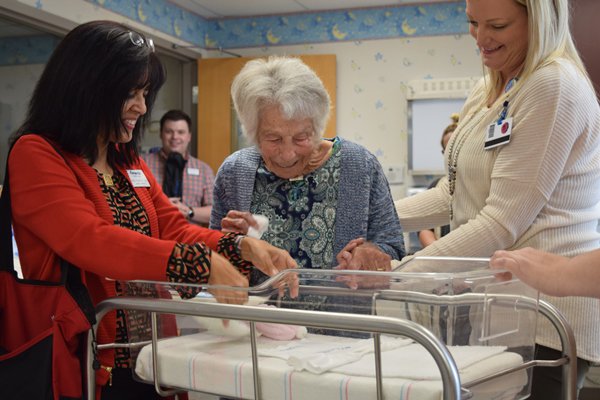 Of all the memories that Branson resident Leah Corbin has accumulated, one seems to stand out more than most – and that says a lot for a life that's 103 years long.
Corbin, who has lived in Branson for 63 years, is in declining health and has difficulty remembering a lot of the things about her life. However, her caregivers at Integrity Home Care and Hospice often hear about what seems to be one of her greatest passions: Her 20-year career as an obstetrics nurse at Cox Medical Center Branson.  
Because those memories still seem to bring Corbin so much joy, Integrity Hospice staff asked Corbin's family if they could take her to the hospital one more time. They worked with the Case Management team at Cox Branson to make the idea a reality.
"Her caregivers say she loved her job at the hospital and she talks about it all the time," says Allison Robertson, manager of case management at Cox Branson. "Because of her age, her mind might not be there all the time, but when it is, it's all about the hospital."
When she heard where she got to visit, Corbin literally hopped with joy.
"Golly!" she exclaimed, with a big smile. "I can't believe it! I loved it here! I loved every minute of it."
Corbin and her family were greeted by Cox Branson and Integrity staff and Tracey Williams, director of OB Women Services and Pediatrics, who took Corbin to the nursery.
There, she was able to look through a window and see the building where the nursery was years ago, when she was a nurse there from the 1950s to the '70s.  According to Linda Allen-Tawes, Corbin's daughter, her mother was at work once and counted up how many babies she had helped deliver over the years, but had to stop when she got up to 500 to care for a patient. 
"We were pretty busy. Sometimes we were really busy," said Corbin. 
Corbin was asked what else she remembers about her time as an OB nurse.
"What do I remember about working here? Everything! Honey, I loved everything," said Corbin. "I just loved everybody that was here. I loved my work. It was perfect, it was just perfect. It was a marvelous job. I just loved nursing."
"What did I do? Everything!" said Corbin. "Bed pans, the whole darn thing. There was just me and another nurse. We did everything. The delivery room was my favorite."
Williams showed Corbin around the nursery, stopping at a bassinette and showing her baby clothes that the hospital provides to new mothers. Corbin sat in a chair in the nursery and rocked, soaking it all in. Her obvious passion for nursing, still so fresh in her mind, was an encouragement to all the nurses and other staff gathered around.
"I just think it's amazing to have someone with that history and to see that her work as a nurse is what she remembers," says Williams. "And to be able to bring her here and see her face, that excitement, it just brings me such joy. I just hope I am as sweet and as precious at 103!" 
"It's just a heart-warming experience," says Robertson. "This is why we do what we do. It's to see this happiness and passion."