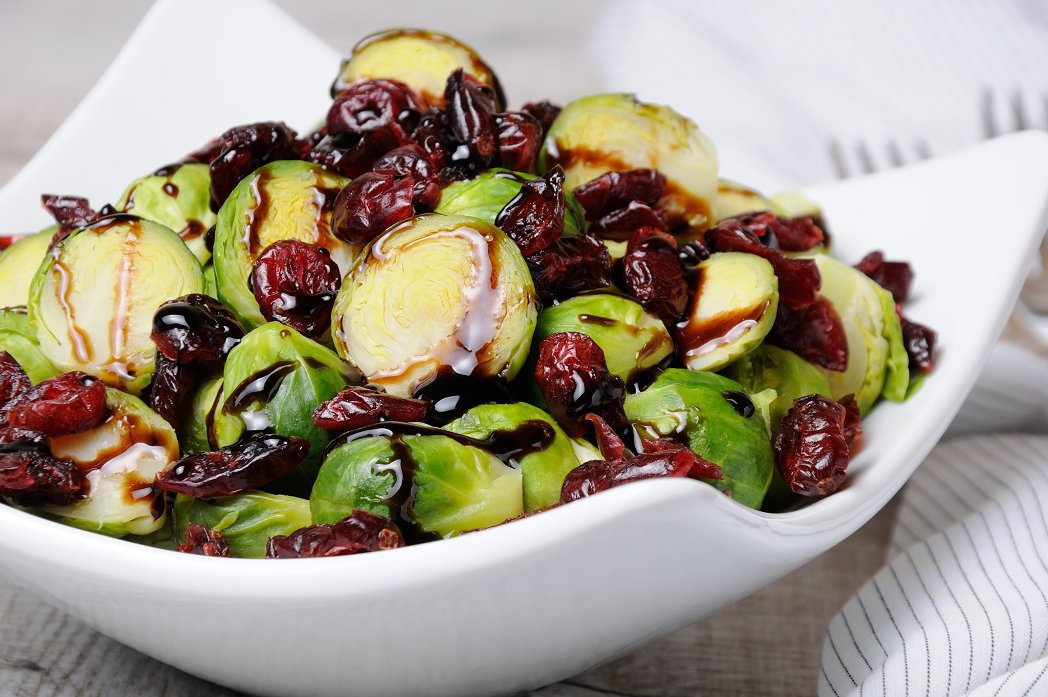 Honey Mustard Brussels Sprout Slaw
Yields: 4 side salads. Serving size: 1 cup. Cook time: 5 minutes. 

Nutrition information per serving: 340 calories; 23 g fat; 290 mg sodium; 22 g carbohydrate; 11 g protein.

All you need is:
Coleslaw:
1 pound Brussels sprouts
1/3 cup almonds, slivered and toasted 
1/3 cup tart dried cherries or cranberries, chopped
1/3 cup finely shredded Parmesan cheese
Honey mustard dressing:
1/4 cup extra virgin olive oil
2 tablespoons apple cider vinegar
1 tablespoon honey
1 tablespoon Dijon mustard
1 garlic clove, minced
1/4 teaspoon fine sea salt
All you do is:
Cut off the stock ends of the Brussels sprouts and remove any brown outer leaves. Shred the sprouts in a food processor using a slicing blade, pressing the sprouts against the blade with the provided pusher. If you don't have a food processor, slice the sprouts as thinly as possible using a sharp chef's knife.
Toast raw almonds on the stove over medium heat for 3 to 4 minutes, stirring frequently, until fragrant and golden on the edges. If you are using toast almonds, this step is not necessary.
In a mixing bowl, whisk the olive oil, vinegar, honey, mustard and garlic until blended to make the dressing. Toss the shredded sprouts, almonds, dried fruit, Parmesan and dressing in a medium serving bowl. Season to taste with salt. 
Serve immediately or cover and refrigerate for up to 4 days. The Brussels sprouts will soften as they marinate. The sprouts may brown lightly over time. Refresh leftovers with a little sprinkle of salt and a tiny splash of vinegar.