Posted by Brandei Clifton on April 20, 2021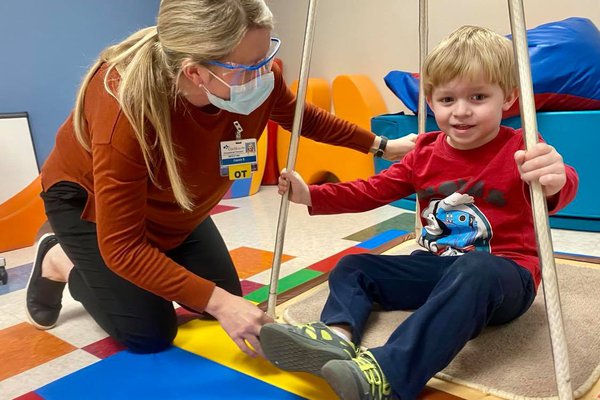 Three-year-old Ace Woodson loves dinosaurs, and he's getting really good at making them "Roar!"
Hearing him verbalize animal sounds during play time is a big relief for his mom, Amanda, who says Ace has made tremendous strides through therapies at Cox Branson after being diagnosed with autism a year ago.
She began noticing red flags with Ace's development by the time he was two years old.
"We could tell he wasn't quite up to par when hitting milestones," she says. "He wouldn't make eye contact and wasn't talking very much yet."
Amanda decided it was time for Ace to get tested. An autism screening from his family doctor confirmed he was on tier one of the spectrum, which means he has high functioning autism. Amanda began researching local options to help Ace get on track with his development and enrolled her son in speech and occupational therapy at Cox Branson's Outpatient Therapy Services.
"This has been a game-changer," she says. "The therapists are so good with him and make therapy fun! After several months of appointments, Ace began making eye contact, was saying more words, had less tantrums, followed instructions, the list goes on and on. We're so grateful."
Ace's speech pathologist, Jeanette Thornsberry, works with him twice a week for 30 minutes and is very pleased with his progress.
"During the initial sessions of speech therapy, he was using jargon and gestures as a form of non-verbal communication," she explains. "Now, Ace is initiating social interaction with words, gestures and functional words to communicate his wants and needs. As a speech-language pathologist, watching a child improve their communication skills is amazing and exciting. Just having the opportunity to work with children and seeing the joy of the parents watching their child make progress is a rewarding feeling and always a great experience."
Ace also attends one 45 minute session of occupational therapy each week. His occupational therapist, Cassie Ewers, uses a variety of methods to provide sensory, fine motor, coordination and visual motor interventions to increase his participation in daily activities needed at home and to prepare for school.
"Getting to watch Ace grow and develop the functional skills he needs to be more independent in his school and home setting is so rewarding," Ewers says. "Ace continues to improve in his fine motor, coordination, attention to task, and motor skills with each visit. It's exciting to be a part of the team that helps Ace achieve important developmental milestones needed to help him exceed in his future."
Amanda says she and her husband, along with their two daughters, marvel at how far Ace has come with a little help from his friends at Cox Branson.
"The other day he randomly said 'octopus' and we all freaked out," she says with a giggle. "Each day, he's learning new things and catching up with kids his age."
In fact, Ace has enrolled in preschool for the fall.
"Isn't that wonderful?," Amanda says. "He's worked so hard to get there. We're so proud of him! We can't thank his therapists enough for the love they've poured into him. They are special, special people who know how to get results."
For more information on CoxHealth's speech and occupational therapy programs in Branson, contact Outpatient Therapy Services at 417-335-7274. Similar programs are also offered through CoxHealth in Springfield and Monett.