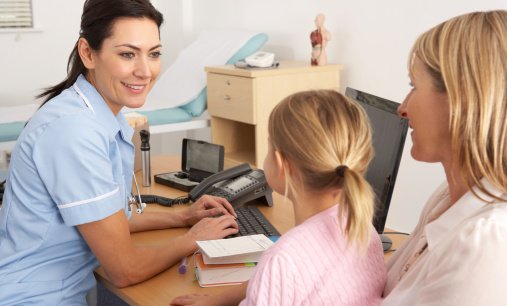 When a child gets sick at school, it's not always easy to get them the care they need. 
DirectConnect for Kids is school-based telemedicine, so kids with sore throats, flu, coughs and similar conditions can be seen by a licensed provider, on the spot. 
Now, there's no need to pick your child up from school and drive to the doctor's office or urgent care - telemedicine means your child can be seen immediately by the same CoxHealth providers you know and trust, using a web camera and specialized equipment. 
DirectConnect for Kids is made possible thanks to a grant provided by Missouri Foundation for Health and a partnership with Children's Miracle Network Hospitals at CoxHealth.
Please note that children running a fever, displaying symptoms of strep or other contagious illnesses will need to go home immediately following their DirectConnect visit. If your child's diagnosis requires prescriptions, they will be sent to your preferred pharmacy. If you need assistance with the cost of prescriptions, give us a call at 417-269-8633.
Conditions & Illnesses
The following conditions and illnesses can be diagnosed and treated through a DirectConnect for Kids visit.
athlete's foot
cold sores
diarrhea

dermatitis
hives
influenza

insect bites & stings
laryngitis
lice

minor burns
minor cuts & scrapes
minor rashes & blemishes

motion sickness
minor skin conditions
nausea

pink eye
ringworm
rosecea

seasonal allergies
shingles
sore throat

sties
sunburn
stomach flu

upper respiratory infection
vomiting
What is DirectConnect for Kids?
It's school-based telemedince, operated by CoxHealth in partnership with your child's school and made possible through funding from the Missouri Foundation for Health and Children's Miracle Network Hospitals.
What is telehealth?
Telehealth, or telemedicine, is a method of providing healthcare remotely with an internet connection, web camera and specialized medical equipment to connect patients with licensed providers.
What are the benefits of school-based telemedicine?
School-based telemedicine allows your child to be connected to medical care while he or she is still at school. This means your child gets care more quickly and misses fewer school days, while you miss fewer days of work. 
What is the goal of DirectConnect for Kids?
To help schools reduce the number of days children miss school for health-related issues by providing school-based telemedicine to elementary school students. We want to help keep kids healthy, in school and ready to learn.
How does DirectConnect for kids work?
When your child is sick he or she will be sent to the school nurse for evaluation. If the school nurse finds your child's ailment is able to be treated by a licensed provider through telemedicine, the school nurse will contact you. 
A licensed provider will examine your child using a web camera and specialized equipment. You'll participate in this visit with your child, either in-person or through a video connection. 

Who will care for my child?
Telemedicine services are provided by CoxHealth licensed providers. Much like a visit to an urgent care or walk-in clinic, a telemedicine visit will not change your child's primary care provider. 
What types of conditions can be treated?
Currently, we diagnose and treat common acute illnesses such as cough, cold, sore throat, ear infection and pink eye. 
Do you write prescriptions?
If a prescription is required, it will be sent electronically by the licensed provider to the pharmacy of your choice.
How can I participate in my child's visit if I can't be there in person
A parent or guardian is required to participate in the visit. You may come to the school, or you can join by video with a smart phone, tablet or computer with a web cam without leaving your home or workplace. Don't worry - we'll help you get connected! For assistance, please call 417-269-8633 or 1-888-805-5956.
How much does it cost?
DirectConnect for kids is a low-cost service. Prices vary based on location. Please contact 417-269-8633 for pricing.
How do I enroll my child for this service?
It's easy. Just complete and return the DirectConnect for Kids enrollment and consent form provided by your child's school or available for download here. You can submit your completed consent form directly to your child's school, or by faxing it to 417-269-7036.
Your child MUST have signed DirectConnect for Kids enrollment and consent form on file before he or she will be able to participate. 
This DOES NOT mean your child will be treated without your consent. You will ALWAYS be contacted prior to any visit with a DirectConnect for Kids provider.
When is DirectConnect for Kids available?
This service is available during normal school hours. If your child's school is closed due to inclement weather, holidays, etc., DirectConnect for Kids will also be closed. 
Outside of school hours, please visit our DirectConnect services.
Will my child's primary care provider receive information from this visit?
If your child's primary care provider is affiliated with CoxHealth, he or she will receive information on this visit through your child's electronic medical record. The provider will be able to see the care that was received, and the specific care plan for that visit. 
If your child's primary care provider is not affiliated with CoxHealth, records from your child's DirectConnect for Kids visit can be sent to his or her pediatrician. Simply request this at the time of the visit.

Similar to receiving care at other CoxHealth facilities, if your child is not feeling better following the DirectConnect visit, please contact your primary care provider. If you do not currently have a primary care provider, please call 417-269-4636. 
How will I get records from my child's visit?
A summary of your child's DirectConnect for Kids visit will be sent, using secure messaging, to the email address on your child's enrollment form. If you don't have email access, the information can be mailed to you, or made available for pick-up in our Heath Information Records department. 
Why are you asking for my child's insurance information?
DirectConnect for Kids is provided to you, free-of-charge, thanks to the ACHT Now! grant. The grant requires that we collect data regarding the demographics of those we serve. 
Who do I contact if I have additional questions?
For additional questions about DirectConnect for Kids, please call 417-269-8633 or 1-888-805-5956, or email directconnect@coxhealth.com.