At CoxHealth, we follow the American College of Radiology mammography guidelines, which recommend you receive a baseline mammogram by age 40. Finding breast cancer at an early stage may save your life, and early detection often means less aggressive treatment is required. 
Mammograms are offered at the Breast Care Clinic and Cox North Hospital in Springfield, Cox Medical Center Branson and Cox Monett Hospital. Call today to schedule your appointment. No referral is required.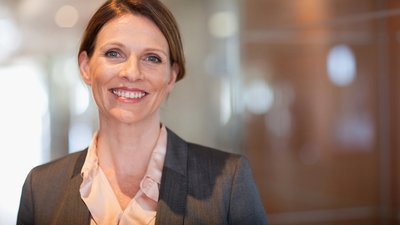 Schedule your Mammogram
Springfield: 417-269-5239 
Monett: 417-354-1138 
Branson: 417-348-8313
Barton County: 417-681-5266
What is a Mammogram?
Because mammography is a preventative screening, it's covered by most insurance companies. The exam itself is a low-dose X-ray of your breast. The radiation risk -comparable to spending four hours in the sun - is minimal compared to the risk of death from not detecting breast cancer early. 
Female radiological technologists who have received specialized training and certification perform mammogram exams and breast ultrasounds. They also assist board certified breast radiologists with ultrasound and stereotactic biopsies. 
During your mammogram, you'll stand in front of a mammography machine. One breast will be placed on the X-ray plate. In order to position your breast for optimal imaging, the technologist may examine and/or palpate your breast before placing it on the plate. An adhesive marker will be applied to any moles, scars or other spots that might interfere with the breast image. 
A separate flat plate, often made of plastic, will be brought down on top of the breast to compress it gently against the X-ray plate. The technologist compresses your breast to decrease motion and to make the layer of breast tissue thinner. This allows for reduced X-ray exposure and sharpens the image. A minimum of two pictures from different angles will be taken of each breast. This requires the repositioning of your breast between images. 
In 2001, CoxHealth was first in the area to offer digital mammography. All our hospital facilities are digital. The brightness and contrast of digital images can be manipulated electronically, and certain areas can be magnified. This makes it easier for the radiologist to interpret your images. 
In 2016, CoxHealth was the first to bring 3D mammography to Springfield and Branson. With this technology, fine details are more visible, allowing physicians to examine breast tissue layer by layer. A 3D mammogram offers unprecedented accuracy and detects 41 percent more invasive breast cancers.
In 2018, CoxHealth was again the first to bring new technology to the region, introducing the SmartCurve system to Springfield. This technology improves comfort during your mammogram because of the curved compression surface.

Your latest mammogram images will be carefully compared to those from any past exams. The radiologist will send a report about your mammogram to your physician, and will notify you of the results by mail. 

If you're at an increased risk of developing breast cancer you may be eligible for a screening breast MRI, in addition to your routine screening mammogram. 
Financial Assistance
Concerned you can't afford a mammogram? Help is available for qualified applicants through a number of programs: 
CoxHealth Foundation Patient Assistance
Breast Cancer Foundation of the Ozarks
Missouri Department of Health and Senior Service
The CoxHealth Breast Care Clinic is fully accredited by theNational Accreditation Program for Breast Centers (NAPBC), a program administered by the American College of Surgeons. It is also a designated Breast Care Center of Excellence. Accreditation is only given to those centers that have voluntarily committed to provide the highest level of quality breast care and that undergo a rigorous evaluation process and review of their performance in three modalities: mammography, ultrasound and stereotactic biopsy.