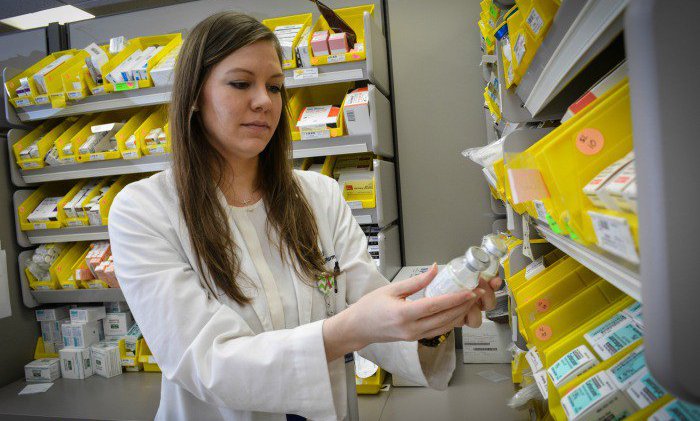 This 13-month, ASHP-accredited general practice residency is designed to expose aspiring graduates to a wide variety of practice settings.


ASHP Accredited PGY1 Residency
ASHP Match Number: 64100
Program Overview and Information
The CoxHealth PGY1 pharmacy residency program builds on education gained through a Doctor of Pharmacy degree to develop clinical pharmacists who are responsible for medication-related care of patients with a wide range of conditions, and who are eligible for board certification and postgraduate year two pharmacy residency training.  
Our program emphasizes:
Preceptor development 

Interdepartmental collaboration 

Leadership development

Project management skills

Provision of medication education

---
"My favorite quality about the CoxHealth residency program is that each resident is allowed the flexibility to create an experience that is uniquely their own. The program emphasizes the growth of the individual in all areas of well-being and not just as a healthcare professional. The people involved in the program had a huge impact on my life professionally and personally, which is why I chose to stay with CoxHealth upon graduation. It was a wonderful experience and a great start to my pharmacy career."
- Josh Holland, PharmD, BCCP
CoxHealth Psychiatry Pharmacy Specialist
PGY1 Pharmacy Residency Graduate
---
Training Experience
Antimicrobial stewardship
Dose monitoring and adjustment via protocol

Anticoagulation management
Metabolic support and nutrition

Provision of medication education to patients/caregivers and various health care professionals
Obtainment of medication histories and reconciliation of discrepancies

Collaboration with various members of the health care team to optimize medication therapy
BLS and ACLS certification and code attendance

Training in both centralized and decentralized pharmacist functions
Participation in multidisciplinary committees
Rotations
Core
Ambulatory care

Critical care

Family medicine

Leadership*

Metobolic support

Internal medicine

Longitudinal/Extended Experiences
Community cardiac rehabilitation classes (extended - 3 months)

Leadership book club (longitudinal)

Research (longitudinal)

Teaching and education (longitudinal)

Staffing (longitudinal - 40 per month)

Electives
Academia

Emergency medicine

Infectious fisease

Informatics

Oncology

Pediatrics 

Psychiatric pharmacy

Transitions of care

Additional critical care and ambulatory care experiences available

*Includes a regulatory overview and accreditation standards; medication and patient safety; budget review and inventory; clinical initiatives, as well as formulary and drug class reviews; and drug shortage management.
Resident Teaching Program through the University of Missouri-Kansas City is also offered.
Benefits
In addition to CoxHealth benefits, details of which can be found here, pharmacy residents are provided professional paid leave of absence and compensation to attend required conferences. Residents may be required to work holidays as part of their staffing component (not to exceed one major and one minor holiday), but are eligible for compensation above the stipend if additional holidays outside of staffing requirement are worked. 
It's important to note that payment of college tuition loans may be deferrable during a residency. You should discuss loan deferment with your banking or lending institution.
Staffing
Every other weekend in our central pharmacy, sterile compounding or critical care areas.
Application Procedure
All applications will be accepted through PhORCAS.
For more information, see our application procedure or contact program director Chelsea Landgraf, PharmD, BCPS, BCACP.