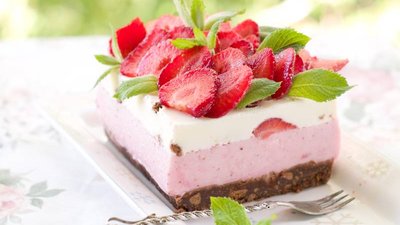 Light and Creamy Yogurt Pie
Makes 8 servings.
From the American Diabetes Association Month of Meals Diabetic Meal Planner.
Ingredients:
8 ounces fat-free artificially sweetened yogurt
3/4 cup light whipped topping, defrosted
2 cups sliced strawberries
9-inch graham cracker crust
Directions:
Place the yogurt in a medium bowl and fold in the whipped topping. Fold in most of the strawberries, reserving some for garnish. Place mixture in crust and garnish. Chill or freeze. If frozen, remove from freezer about 30 minutes before serving.
Exchanges: 1-1/2 carbohydrates/1 fat. Calories: 155. Calories from fat: 55. Total fat: 6 g. Saturated fat: 1.8 g. Cholesterol: 0 mg. Sodium: 135 mg. Total carbohydrate: 23 g. Dietary fiber: 1 g. Sugars: 13 g. Protein: 2 g.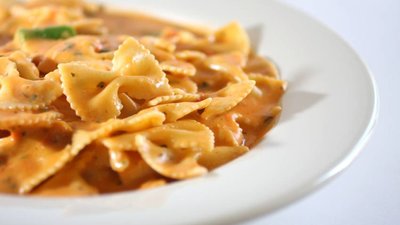 Pumpkin Pasta
Makes 10 1-cup servings 
Ingredients:
16 ounces farfalle pasta uncooked 

1 teaspoon olive oil 

7 ounces light cream cheese, cubed 

1/4 cup grated fresh Parmesan cheese 

1/2 cup fat-free milk 

15 ounce can pumpkin 

1/2 teaspoon cayenne pepper 

1/4 teaspoon salt 

1/4 teaspoon ground black pepper 

1/4 teaspoon dried sage 

Pinch of ground nutmeg 

Directions:
Cook pasta according to package directions, omitting salt. Drain. In a large sauce pan, heat olive oil, cream cheese, Parmesan cheese and milk over low heat until cream cheese is melted, stirring frequently. Add pumpkin, cayenne pepper, salt, black pepper, sage and nutmeg. Cook until thoroughly heated. Add cooked pasta to pan and toss gently to coat. 
Exchanges: 2-1/2 starch/1 fat. Calories: 251. Calories from fat: 56. Total fat: 6 g. Saturated fat: 3 g. Cholesterol: 16 mg. Sodium: 171 mg. Total carbohydrate: 39 g. Dietary fiber: 3 g. Sugars: 5 g. Protein: 10 g.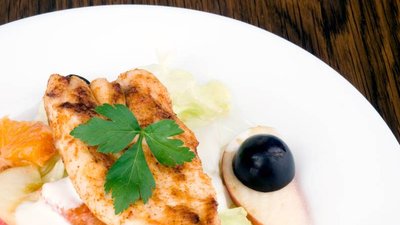 Apple and Thyme Chicken
Makes 4 servings 
Ingredients:
2 boneless, skinless chicken breasts, halved and all traces of fat removed
Butter-flavored cooking spray
Salt (optional) and freshly ground pepper to taste
1 medium Granny Smith or other tart green apple, cored and thinly sliced
1 shallot, minced
1 tablespoon fresh thyme leaves or 1 teaspoon crushed dried thyme
1/4 cup balsamic vinegar
Directions:
Preheat oven to 375°F (190° C). Rinse chicken breasts and pat dry with paper towels. Lightly spray a baking dish with cooking spray. Sprinkle chicken breasts with salt (if using) and pepper. Place in a single layer in the prepared baking dish. Arrange apple slices over and around chicken breasts. Sprinkle with shallot and thyme leaves; pour on the balsamic vinegar. Bake for 15 to 20 minutes, until chicken is opaque throughout (cut to test). Arrange cooked breasts on a platter and spoon apples and cooking juices on top. Garnish with thyme sprigs, if desired. Serve at once.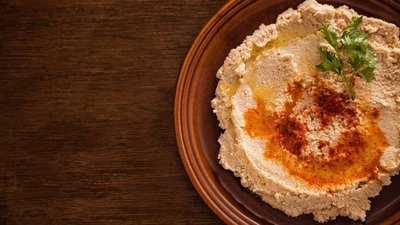 Easy Roasted Red Pepper Hummus
Makes 2 servings
Ingredients:
2 cloves garlic, minced 

1 (15 oz.) can garbanzo beans, drained 

1/3 cup tahini (sesame seed paste found in international food aisle) 

1/3 cup lemon juice 

1/2 cup roasted red bell peppers (can used canned, drain off liquid)
1/2 teaspoon dried basil
Directions:
Process garlic, beans, tahini and lemon juice in food processor until smooth. Add peppers and basil and process again until smooth. Chill for 1 hour before eating.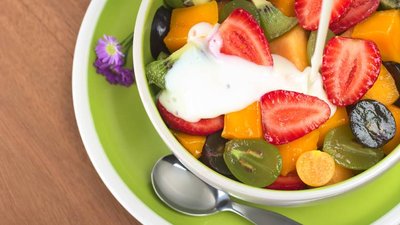 Fruit Salad
Makes 6 1/2-cup servings 
Ingredients:
1/2 small cantaloupe, diced
1/2 cup strawberries, sliced
1/2cup green grapes, halved
1/4 cup light, lowfat vanilla yogurt (no sugar added)
2 tablespoons reduced calorie mayonnaise
1 tablespoon walnuts, chopped
Directions:
Combine the cantaloupe, strawberries and grapes. Combine yogurt, mayonnaise and nuts; mix well. Stir yogurt mixture into fruit mixture. Serve on lettuce leaves if desired.
Exchanges
: 1 fruit and 1 fat.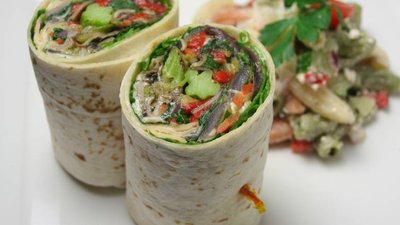 Veggie Wrap
Ingredients:
1 6" whole wheat tortilla (Mamma Lupes, low-carb)
1 Light Laughing Cow cheese wedge
1/4 cup tomato, diced or sliced
1/4 cup cucumber, diced or sliced
1/2 tbsp. chopped Kalamata Olives
Spinach
Directions:
Spread cheese onto tortilla covering all the way to the edges. To prevent wrap from getting soggy, remove seeds and drain excess liquid off tomatoes and cucumbers. Top with olives, tomato, cucumber and spinach leaves. Roll up tortilla like a burrito with edges folded in. Works great as a healthy snack or add grilled chicken and serve with fruit for a quick and easy meal.
Exchanges: Calories: 135. Total fat: 3 g. Saturated fat: 1 g. Sodium: 675 mg. Carbohydrate: 12 g. Fiber: 4 g. Protein: 7.5 g.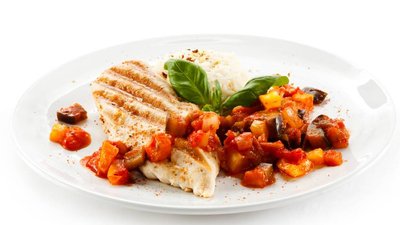 Mango Salsa Chicken Over Rice
Makes 4 servings 
Ingredients:
4 4-ounce boneless, skinless chicken breasts
1/2 teaspoon salt
1/4 teaspoon ground black pepper
1 teaspoon olive oil
1 tablespoon rice wine vinegar
1 mango, finely diced (1 cup)
1/2 cup finely diced red onion
1 green bell pepper, finely diced
2 cups brown rice, cooked
Directions:
Prepare an indoor or outdoor grill. Season chicken breasts with salt and pepper on both sides. Grill chicken breasts over medium heat for about 5 minutes on each side or until juices run clear. In a small bowl, whisk olive oil and vinegar. Add remaining ingredients except rice and toss to coat. Pour mango salsa over grilled chicken breasts. Serve each chicken breast over 1/2 cup brown rice.
Exchanges
: 1-1/2 Starch / 1/2 Fat 1/2 Fruit / 3 Very Lean Meat / 1 Vegetable. Per 1 chicken breast and 1/2 cup rice serving: 298 calories, 46 calories from fat, 5 g total fat, 1 g saturated fat, 68 mg cholesterol, 358 mg sodium, 34 g total carbohydrate, 4 g dietary fiber, 9 g sugars, 28 g protein.