Posted by Randy Berger on July 22, 2020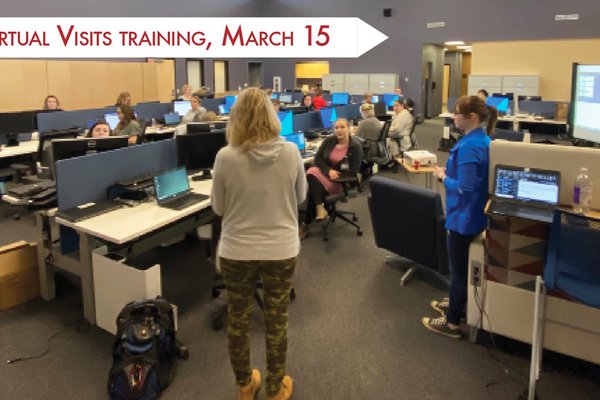 Virtual Visits staff members gather on March 15 for emergency training to handle a high volume of COVID-19 screenings. 
Bridget O'Hara, CoxHealth's telehealth services manager, remembers exactly where she was when everything changed for telemedicine. 
She was shopping for arts and crafts supplies at Walmart. It was the afternoon of Saturday, March 14, and she was getting ready for an evening with friends. 
Incident Command and President and CEO Steve Edwards were meeting at Cox South and the group had reached a decision. 
They wanted to do free virtual visits for patients with COVID-19 symptoms. As soon as possible. 
On Sunday, the virtual visits team had 30 staff members in the office, getting up to speed on the system. On Monday, the service went live, or, as O'Hara puts it, "chaos ensued." 
"We were training every provider we could get our hands on," O'Hara says. "We were determined to take care of our community, and help people stay home and be safe." 
COVID-19 kicked off a telehealth revolution over the next few weeks. On-demand virtual visits expanded, clinic visits went virtual and providers in hospitals used more technology to connect remotely. 
"We have always been progressive with telehealth. We had a lot of provider interest, but this escalated us. It moved us ahead five years. At least," O'Hara says.
'This is an epic moment'
In the weeks before O'Hara got that phone call, our on-demand virtual visits service saw 80 patients, on a busy day. 
The week of March 16, they did 450 visits per day. 
It was a steep learning curve, but the crisis drove the team to adjust quickly. The innovation mantra of "failing forward fast" was on full display. 
That kind of volume revealed bottlenecks in the system. 
Early on, patients had 2-3 hour waits, and it was overwhelming to see hundreds of patients in the queue. 
 "We looked at how we distribute requests to navigators and providers," O'Hara says. "We were asking: How do we get the patient through with a little pause as possible?" 
In the past, the system used two or three providers and one person who communicated with those providers. It hadn't been a problem.   
"That doesn't work with 400 patients and one person trying to communicate to 15 providers," says Virtual Care Supervisor Megan Pippin. 
Leaders assigned schedulers to individual providers to handle the load. People took on different roles to find what worked. 
It was a team effort. Pippin was taking patient calls. O'Hara was managing the queue of waiting patients. 
O'Hara says it was a trial by fire that made telehealth's processes more efficient. 
"Every weekend, we had all-team meetings to reset and change our processes," O'Hara says. "We made a lot of immediate improvements and did a lot of trialing." 
Those meetings included a lot of brainstorming, and listening to all suggestions. 
"There is no expert in the room. This is new for all of us," Pippin says. 
As they worked out ways to handle the rising volumes, they coordinated with more providers, constantly tweaked navigator workflows and supported patients who were new to teleconferencing. 
O'Hara and Pippin say morale was strong as the team rose to the challenge. 
"This is an epic moment we will talk about the rest of our lives," O'Hara says. 
Abbie Clanton, virtual care supervisor, says the quick response and high engagement are reflections of a strong leadership culture.  
"We knew we had to make the change now or we weren't going to make it," Clanton says. "We have a great leadership team and those decisions came quickly for us.  
"It has been great to see what CoxHealth as an organization has done, and how great we have it here. It's been amazing. I watched the videos from Steve Edwards and hearing him give the statistics on how we are handling things really inspired me. It has helped motivate our staff as well." 
Telehealth for clinic visits
In the weeks after we began offering free virtual visits, legislative changes allowed providers to bill for telehealth for regular primary and specialty care visits. 
"This was the perfect storm," O'Hara says. "This crisis and the legislation bumped telehealth ahead five to ten years." 
Providers had seen their volumes drop as patients canceled appointments and stayed home. Now, they could recapture that volume using technology. 
Delivering clinic care virtually was no small task. 
"There were so many unknowns at the beginning. Our providers had to keep from getting (coronavirus) and keep from spreading it," Shamel says. "They had to pivot dramatically to decrease exposure opportunities for patients, providers and staff." 
The first challenge was finding a platform. Si3 brought forward Microsoft Teams as a potential solution. 
After an unprecedented IT effort and two weeks of trials, the vast majority of CMG providers were up and running on Teams. 
"Using a video camera to communicate and assess patients takes skill and practice. It can be uncomfortable at first," Shamel says. "But with COVID-19, nothing is normal."  
Providers began seeing thousands of patients each week. At peak volume, providers served between 5,000 and 6,000 patients in a single week, Shamel says. 
O'Hara says adapting the telehealth process is easier for clinic visits. The same workflows apply, it's just an online recreation of the in-person process.   
The team pulled 50 telemedicine carts from CoxHealth's public school locations.
They trained resident physicians to keep up with virtual visits and providers from around the system jumped in. 
The project rolled out in phases: metro Springfield primary care, metro Springfield specialty care, and then outlying areas. 
Those phases unfolded over four days. 
"I actually don't know how we pulled any of this off," O'Hara says with a laugh. 
Providers get on board
The crisis sped up telehealth adaptation for providers. 
"Our providers were hungry for it. They embraced it and there was no hesitation to get on the screen and care for patients," Shamel says. "You can see their commitment to patients and our mission." 
O'Hara recalls one provider who had been considering expanding telehealth options for three years. They wanted to do some things, but not others. The time was never exactly right. 
"In the past, providers would get skittish about things. Now, that provider does it all via telehealth," she says. "Hands down, people have gotten comfortable with this. It's a way to protect providers and the patients." 
In addition to being a resource for patients, the telehealth team says having providers on board has bolstered the service they can provide with on-demand virtual visits. 
"Now, I can tap into NPs and clinics if we have a spike," Pippin says. "They have the knowledge base on telemedicine so they can branch out into the on-demand service. Providers don't like to be bored. They reach out when they have no-shows and let us know they are available." 
A benefit for patients
The whole experience has opened more people to videoconferencing. 
The technology offers quick access to care and Pippin says people saw how a visit with a provider can be just as beneficial outside of an office setting. 
"As soon as someone uses virtual visits, it's gold," she says. "We have gotten survey feedback that their discussion with a provider was one of the best health care experiences they have ever had. Just having the one-on-one time with the provider. The patients were comfortable at home and able to talk about things that might not have come to mind in the office." 
As COVID-19 continues, telehealth will play an important role in access for patients. 
"The community is really starting to recognize the benefits of using telemedicine. Even if they don't have COVID-19 symptoms, they don't want to sit in a waiting room," Pippin says. "Telemedicine can ease the anxiety of going out in the world and seeking care." 
Pippin says it is encouraging to see all the new patients who are trying virtual visits – and CoxHealth – for the first time. 
"We have heard from lots of patients who didn't use CoxHealth before, especially in surrounding areas. It's really nice to have that reach."  
Telemedicine in the hospital
A mere three weeks after the expansion of virtual visits, the telehealth team focused its efforts on using telehealth within CoxHealth's hospitals. 
For years, they have supported care at our rural hospitals virtually, with programs like tele-stroke and specialty consults. Tele-hospitalists support Cox Barton County and Branson has a tele-ICU. 
Now, that same technology is connecting physicians and patients inside Cox South. A physician can consult with hospitalized patients from the office, or from another part of the hospital. 
That's a key advantage during a pandemic. 
"It was something we needed, especially early on," O'Hara says. "It reduces PPE usage and reduces the chance of exposures." 
Most inpatient consults are now done with telehealth.
Bridging to the future
The wide adoption of telehealth opens doors to all kinds of new ways to provide care. 
COVID-19 made virtual care a priority and when CMS endorsed it as an option, that made it a more attractive possibility. Shamel says he hopes CMS and payers will continue their support, even if the pandemic subsides. 
"We would have gotten here in the next 1-2 years, but not at this magnitude and with all of the access to specialties," he says. "The environment dictates our reaction and responses. This is one of those items a good thing that came from it." 
Shamel sees the opportunity for technology to grow group visits – a new approach that would bring together, virtually, multiple patients with similar issues. That would be a time saver for providers who often have to repeat similar information. 
"Virtual lets you do that with lots of patients," Shamel says. "I could see using it for major disease states, as we are doing in prenatal care." 
Technology could also revolutionize convenience for patients. 
What if a patient could have virtual appointments with a cardiology, pulmonology and wound care, without ever leaving their home? Instead of having to go to multiple clinics, they could have those visits online. 
"There is a great opportunity for interaction and convenience for patients," Shamel says. "We could invite people in who have access and make that go today if we needed to. There is real opportunity there in the long run." 
The success of the last few months makes Shamel more confident than ever that we can adapt and seize those opportunities. 
We have proven that we have what it takes to manage change and think differently about the way we serve patients. 
"To see that magnitude of service come online in that time frame speaks to the commitment to excellence and the vision of our providers," Shamel says. "Not every organization can maneuver in that fashion, and that speaks to our level of engagement. I couldn't be more proud of our team at large."